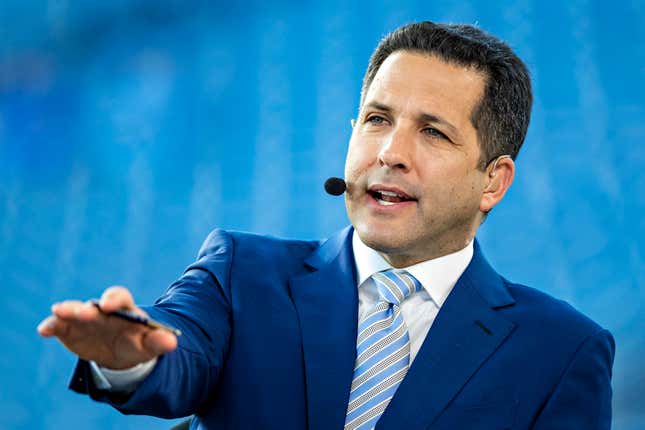 Breakout the B-roll of lawnmowers and field painters, it's almost time for HBO's Hard Knocks. One of HBO's crown jewels since the turn of the millennium will feature the New York Jets for the second time. When Rex Ryan's team was featured for a month on the small screen 13 years ago, it was some of the best sports television ever created. For those hoping for an equally riveting sequel, ESPN's Adam Schefter is here to tell you that is not happening.
How running an NFL team is like running a restaurant | Chef Emeril Lagasse
On Monday, Schefter appeared on ESPN's Get Up to discuss the upcoming season of the show with Mike Greenberg, Sal Paolantonio, and a couple of stars from the 2010 Jets Hard Knocks, Damien Woody and Mike Tannenbaum. Those two former participants of the show want the current Jets to embrace being selected by the league to be featured on the show. Schefter said that would not be happening.

"Hard Knocks will not be the same, because they're not going to be given the same access," Schefter said. "The Jets don't believe it's humane to show players being released."
That is the NFL's top insider on live television on the top sports network in the world and emphatically informing potential viewers of Hard Knocks that this season is going to stink. If the Jets really go as far as to not show players being released that is tanking the show. Watching people go through their lowest professional moments shouldn't be so entertaining, but let's be real, "housewives" fighting and cursing each other out can sustain a television series for more than a decade.
The thicker the drama, the more viewers are here for it. If no shoulders are being tapped for conversations had with coaches and management, the show has already lost most of its appeal. The one guarantee from Hard Knocks every year is that the series will get viewers emotionally invested in a backup player, only to eventually see them released.

With the NFL having only one cutdown day there is already far less of that content than there used to be on the program. Not having the actual moment on air turns Hard Knocks into a program that gives viewers only slightly more access than a fan paying to watch training camp in person. At least they can get autographs.

Don't get mad at me NFL for pointing out the obvious, that the 2023 Hard Knocks might be the worst season of the show yet. You all forced the Jets to participate, and Schefter volunteered the information that the team would not be cooperative with access.

Hopefully the most noteworthy part of Jets camp will not be Sauce Gardener's jewelry. If it is, then the 2023 Hard Knocks will be destined for arrival in Stinkville.