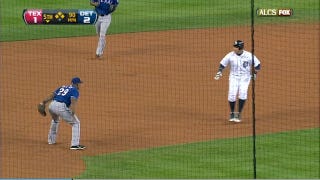 Your morning roundup for Oct. 12, the day we learned that charming door-to-door breast examiner turned out to be a phony. Got any stories or photos for us? Tip your editors.

What we watched: The Tigers, with three solo home runs and seven-plus innings from Doug Fister, held off Texas to pull within two games to one in the series. Yep. That's it.
Elsewhere
Or does adding Derrick Mason indicate Andrew Andre Johnson could be out even longer?: "The Texans, who play at Baltimore on Sunday, were in the market for a receiver because Andre Johnson is recovering from a hamstring injury that could keep him out of another game or two and Kevin Walter (five catches, 81 yards, one touchdown) was the only productive wideout in Sunday's 25-20 loss to Oakland." [Houston Chronicle]
Maybe they did do it on purpose: "The day after Raiders owner Al Davis died, his team clinched a victory over the Texans by thwarting the Texans from the doorstep of the end zone on the final play of the game, as safety Michael Huff intercepted Houston quarterback Matt Schaub in the end zone. In what was a fitting, albeit surely unintentional, missing-man formation tribute to Mr. Davis, the Raiders managed to keep the Texans from scoring with only 10 players on the field." [PFT]
Your Big Foot Drag Racing Interlude:

How the 49ers have been building to win: "Now at 4-1, the 49ers are fielding their best team since at least 2002 and seem destined to end their playoff drought by winning the otherwise anemic N.F.C. West. The seeds of this team were planted during a 366-day stretch in the middle of the last decade." [The Fifth Down]
Kobe on the verge of a one-game deal in Italy: "Reports Sportando (via Bologna Basket): "Kobe Bryant, as reported by Il Resto del Carlino, is close to accepting the single game proposal made by Claudio Sabatini, owner of Virtus Bologna. The two parts are negotiating intensively in the last hour and a solution for the saga seems close to end. Kobe Bryant would land in Italy for four days and play one game in the 'Kobe Night'. According to Sabatini there are already sponsors and networks ready to cover the event. Sabatini offered to Bryant $2M for the single game." [SLAM]
Don't they all do this?: "A club runner in northern England has been stripped of his third-place finish in a local marathon after being caught hitching a ride on a spectator bus. Rob Sloan initially described claims that he cheated in Sunday's Kielder Marathon near Newcastle as 'laughable,' but was forced to admit his transgression following an investigation." [AP]
Merch: Managing editor Tom Scocca and contributing editor Drew Magary have both written books. You can buy Scocca's Beijing Welcomes You: Unveiling the Capital City of the Future here, and Magary's The Postmortal here. Now do it.
Send stories, photos, and anything else you might have to tips@deadspin.com.