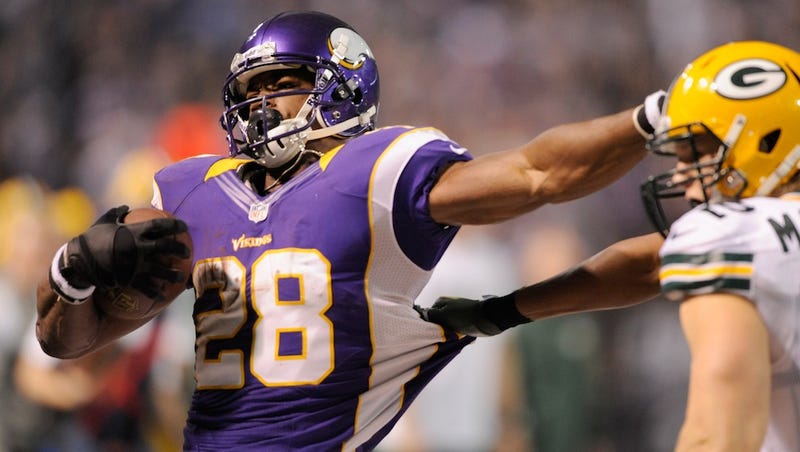 Adrian Peterson is, last we checked, the best thing going in football. No one can tackle him or outrun him or chase him down. Alas, Adrian Peterson plays on a team full of men who are not the best things going in football. Christian Ponder averages only 6.08 yards per pass attempt, which ranks him behind everyone except Blaine Gabbert. The Vikings' defense allowed 350 yards per game, which ranked them 16th. Their kickoff returns had been exceptional when Percy Harvin was healthy—Harvin averaged 35.9 yards per runback, which was the league's best figure. But Percy Harvin is never healthy, and so Minnesota's special teams have slipped a little with Marcus Sherels taking his place.
Minnesota will need everything they can scrounge up to beat Green Bay for the second time in a week—this time at Lambeau, with Randall Cobb dressed for the Packers—so Adrian Peterson, who, again, is the best, has an idea.
"For the past two years I've been trying to get in on field goal block. Come in off the edge, you know?" Peterson said via The Associated Press. It's just going to take one block for them to really be like, 'OK, you know what? Let's take the chance and let you go out there and get it done. Kickoff return, I wouldn't mind getting back there. I'm in it to win."
Leslie Frazier reportedly nixed the idea, although special teams coach Mike Priefer said it might happen "in a crucial situation." Perhaps Saturday will present such a crucial situation. Godspeed, Adrian Peterson's ligaments.
Adrian Peterson to return kicks for Minnesota Vikings? [NFL.com]