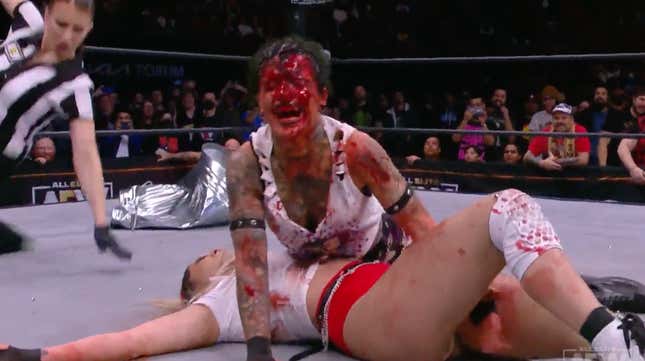 Capping off a week of pretty wild wrestling news, I suppose it was somewhat comforting that it ended with a familiar dumbass debate within the industry. Talks of board takeovers and sales to oppressive foreign regimes, that's above most wrestling fans' paygrade (though it won't stop us from chiming in, because that's part of the fun!). What are women wrestlers allowed and not allowed to do? That's territory we know!

All 8 Rocky movies ranked | Rocky through Creed 2
In case you missed it, the main event of AEW's Friday night show "Rampage" was a street fight between the teams of Anna Jay and Tay Melo against Willow Nightingale and Ruby Soho. It was pretty obvious where this was going the moment all four women appeared wearing white shirts. Because white shirts in a no-DQ style match almost always means blood stains to make the match pop. Chekov's tank top, if you will.
And so it proved, with Ruby doing the blade job after taking a spot from inside a garbage can (god, writing about wrestling really can be the best because where else do you arrange those words?) And Ruby certainly didn't half-ass it, looking like something out of a B-horror movie for most of the match. And this led to some very rational and level-headed reactions, as you might imagine.
Women doing what men have done for decades
This was hardly the first time that the women on the AEW roster have "gone Moxley." Britt Baker's entire rise to the top of the division was based on her lights-out match with Thunder Rosa where she was covered in her own plasma. She even made a T-shirt about it. This wasn't even new to Jay and Melo, who had a previous street fight with The Bunny and Penelope Ford where all four women were opened up. This is kind of a thing for AEW, especially in matches that are supposed to go over the edge, as "streetfights" are meant to do.
It is still a little striking, because women doing what the men have done for decades is still pretty new to mainstream TV. While women's wrestling came to prominence in WWE, WWE has a pretty strict no-blood policy for everyone. It is not something a TV audience is all that used to.
But still, it shouldn't be much of a shock when AEW allows the women to do whatever their men's side have been doing for the company's entire existence. Either these women are full out wrestlers or they're not. Ruby is a longtime veteran of the indies, and is certainly no stranger to that element of storytelling from her time there. If wrestling fans really want to know what it can look like, they should check out some of the shit Candice LaRae got up to when she was on the indies.
What sets AEW apart
While the degree of blood Ruby shed might have been over the top, and maybe accidental, this is how AEW has separated itself from day one. It is the wrestling company, not the sports entertainment company. Maybe blood isn't your thing, it's not really mine, but it is a part of wrestling storytelling and has been for its entire existence. It certainly has its place. AEW has been the company on TV that bleeds and that's part of the reason it's special. It's a different product, and this is one of the reasons why.
So why should the women be any different? Why should they be limited in the ways they can do matches and tell stories? This was the end of a pretty long-term feud for Ruby and Tay, the kind of long-term feud-building that the women's division doesn't get a lot of. Tay (accidentally) broke Ruby's nose at All Out, putting the latter out of action for months. Ruby returned for vengeance, but had to overcome the obstacle and interference of Tay's BFF Jay, keeping her from catharsis. So she found a partner, and this was the final blowoff.
Something that took months to put together should have a cataclysmic ending so that we know it's got an underline when it's over. And if that involves some color, that's cool. It was an illustration of just how far Ruby was willing to go to finally put Tay in her place. Wrestling being a visual art from first and foremost, you couldn't really get a more vivid picture.
The fact that women's matches more rarely use this device only makes it that much more effective when they do. It's a bigger beat. And it's a good reminder that they're taking the same bumps and making the same sacrifices and are no more delicate flowers than anyone else on the roster.
Ruby certainly now has more buzz than she's had since her introduction, as does Willow. And even with the momentum the women's division has gotten lately, it still needs more foils for its two champs, Jamie Hayter and Jade Cargill. Friday's match only pushed both Nightingale and Ruby back towards being said foils.
A matter of degree?
So is it just a matter of degrees? Yeah, Ruby bled excessively, but you didn't hear much of anything like the furor when Dustin Rhodes literally covered the mat in a match with his half-brother Cody on AEW's first official show. Jon Moxley makes a habit out of bleeding from pretty much just walking to the ring, even when it's extraneous or superfluous.
This probably isn't any more complicated than men having been grossed out by the combination of women and blood for pretty much the entirety of human history. Does anyone really think women are grossed out by blood? It is a safe bet that many are still squeamish about the mere idea of menstrual cycles and periods, and that's blood that they don't even see. Have your partners or friends tell you what merely going to the bathroom can look like for women during that time.
Ruby is a wrestler in the wrestling company. No more, no less. This is what AEW has been and will be, and that applies to everyone under their tent.