It's Day 4 and I'm ready to call it. This Olympics sucks.
NBC boasted about their 800 hours of television coverage for Vancouver 2010, which sure sounds like a lot until you realize what they are actually broadcasting. Take today's schedule for instance. Five of their six Olympics networks were dark this afternoon. The one actually showing sports didn't start until 1 p.m. and then dazzled us with ... cross-country skiing. Not the cool kind with guns, but the lame kind that isn't even a race because the start times are staggered and one woman finishes then has to wait and see if someone can beat her, which they usually don't. Also snowboard cross qualifying—which again is basically the most exiting, thrill-packed racing event minus the actual racing.
Oh well, I thought. It's probably the best they can do for a Monday morning in Vancouver. That must have been all that was happening out there on this particular day. Until I turned over to MSNBC and saw ... downhill medals! Bode Miller got a bronze! Was there any mention of that during the mind-numbing conversation between Brian Williams and Zombie Al Michaels on NBC TV? You bet your ass there wasn't.
So NBC's web properties are perfectly willing to live in the 21st Century, but the TV is still going to pretend that tape delay is just as exciting as live. (And it is, as long as you don't go online to find out what's on NBC tonight.) It's an old complaint, but one that I'm still amazed we have to make. Why not let the people who want to watch events live, watch them live and let people who have day jobs choose whether they want spoilers or not? Are we animals?
Plus! The snow still sucks (it was colder in Dallas yesterday than it was in B.C.), skaters are getting death threats, billionaire internet scam artists are actually making judges look shady, and finely tuned elite athletes are being rewarded for their heroics with celebratory couches? Brainstorm! How about Olympic medals made out of double cheeseburgers! Your ribs are showing through those jump suits, beanpole!
G/O Media may get a commission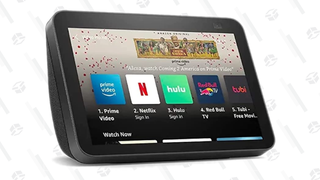 Oh, and a guy died. This whole thing is pretty depressing, if you ask me.
Didier did it! [NBC Olympics]
What's the Deal With the Olympics' Bean Bag Couch of Shame? [Gawker]
Australian official accuses judges of inflating Canada's score in men's moguls [The Province, Via Brooks]