The Alabama Crimson Tide athletics department earns revenues of $143 million dollars. According to Marc Edelman, a professor of sports and antitrust law at CUNY, that is more than all 30 NHL teams and 25 NBA teams. While not the craziest thing you've ever heard, it does crystallize something you've probably always known on some level: amateur sports is better business than professional sports.
Ohtani has the WBC, but will Mike Trout ever lead the Angels to a championship? | Agree to Disagree
On the whole, college athletics earns more than the aggregate of the NHL and NBA, according to Edelman. Student athletes across the country are earning more for their institutes of higher learning than professionals are for their organizations designed specifically to make money.
Texas is the largest athletic department, earning more than $165 million last year in revenue — with $109 million coming from football, according to Education Department data. The university netted $27 million after expenses.

Other major programs such as Florida ($129 million), Ohio State ($123 million), Michigan ($122 million), Southern California ($97 million) and Oregon ($81 million) also are grossing massive dollars. They are also spending big bucks, too.
The AP looked into all of this in the wake of the NLRB decision in March that held Northwestern football players were employees entitled to form a union. It's more of the same from a press set on pointing out all the questions posed by student-athlete unionization.
Rod Fort, a sports economist and co-director at the Michigan Center for Sport Management, said the difference in profit margins between schools and nonfootball programs "presents the potential union with a real trade-off problem" if it wanted to negotiate for revenue.

"If athletes make any gains through organization of unions and collective bargaining, it's going to come at the expense of other spending that's going on in the athletic department. Most of that extra money goes to coaches' salaries, facility upgrades and recruiting," Fort said. "It's precisely that spending that makes the university the attractive place that it is to come and play in the first place."
G/O Media may get a commission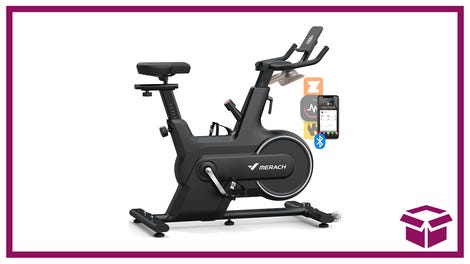 14% off + Coupon
Merach Indoor Cycling Bike
As we've pointed out, there are certainly things that will need ironing out, but these questions are not unanswerable, they are just questions that can be answered during the unionization and collective bargaining processes.
In the meantime, don't worry about your alma mater losing out on top recruits because all that money they used to spend on the coach and the sweet TVs in the locker room now goes elsewhere. Free agents don't want to play for the New York Yankees because they have a high-paid coach and great facilities. They want to play for the Yankees because they pay.
Photo Credit: Getty Images