Your national title game will be SEC semifinal champion Alabama against Notre Dame, which in a just alternate universe just got piss-pounded by Ohio State in the Big Ten title game and ceded its title game slot to Florida. In this universe, though, Notre Dame spent the afternoon licking its chops as Alabama and Georgia traded body blows and combined for just 17 points in the first half. If there's something Notre Dame's good at, other than almost losing to mediocre teams, it's winning single-possession games (6-0 this year).
Then all hell broke loose in the second half: six combined touchdowns, no field goals, brutal, elegant, excellent football, right until Georgia's season bled out two steps shy of the go-ahead score. If Notre Dame can keep up with Alabama in the national title game, let it be said that the Irish will indeed deserve to win their first national title since 1893.
Hard to believe that in a game that saw the Tide run for 350 yards, Alabama didn't score until 28 minutes into the game, when Eddie Lacy broke through the right side for a 46-yard scamper. Tight end Michael Williams had two blocks on the play, one on a double-team of Georgia's end and another upfield that guaranteed the final 40 yards of the run. Alabama got the ball back, pushed the ball to the 5-yard line and settled for a first-and-goal field goal before the half. The Tide would've had a couple of more shots had Nick Saban called a timeout on the drive. Those nearly turned out to be four huge points.
But settling for the three wasn't even within shouting distance of the worst special teams moment of the day for Alabama. Early on, Saban fell off the wagon and indulged in a (successful) fake punt only to get saddled with a delay of game penalty. Then the Bulldogs converted a fake punt of their own. In the third, Georgia's Cornelius Washington allegedly tipped a third-down pass, spurring the refs to pick up a flag for pass interference. When the Tide then lined up for a 49-yard field goal, Washington left no question: He swatted the kick straight back for a gazelle named Alec Ogletree to catch on the bounce and return for a touchdown. If it's possible to blow a game open with a score of 20-10, Georgia seemed to do so then.
But Lacy and T.J. Yeldon, good gracious. Lacy is shaped like the Juggernaut and has a running style reminiscent of the Kool-Aid Man. He "makes you think of Herschel," Gary Danielson blurted after one third-quarter gashing, to which you could almost hear Bulldogs' fans collectively vurp and swallow. Yeldon was just as good today, jab-fast and harder to hug than a greased watermelon. Together Lacy and Yeldon ran 45 times for 334 and three TDs. They're one of those ridiculous, destructo running combos the SEC churns up so often: Cadillac Williams with Ronnie Brown at Auburn, Darren McFadden with Felix Jones with Peyton Hillis at Arkansas, Tim Tebow with The Power of Christ Compels You at Florida.
G/O Media may get a commission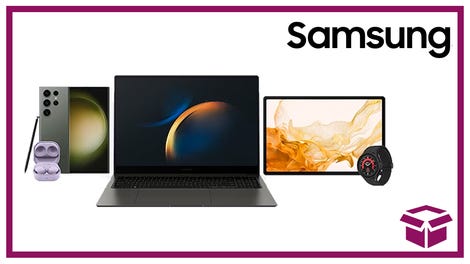 24 hour deals
Discover Samsung - Daily Deal
With its defense, its offensive line, a wildly efficient quarterback in AJ McCarron and a battering ram combo of a backfield, Alabama should never lose a college game. Georgia's Aaron Murray kept it close with a couple of deep balls but the Tide just clobbered and clobbered until McCarron's play-action bomb to Amari Cooper went 45 yards for the go-ahead touchdown with 3:15 left. Then the Tide's defense held on, oh, but just barely, so, so barely. Murray drove the Bulldogs from their own 15 to the Alabama 8 in under a minute. The Tide's C.J. Mosley tipped the final pass; it fell to Chris Conley at the 5; Conley made the instinctive catch, fell down; the game ended.
"I'm ready to have a heart attack here, about that last drive," Saban said immediately after, while every Bulldogs fan in Georgia simultaneously stumbled to the nearest hedge to throw up in horror. Seriously, if you know a Georgia fan? Hug 'em in silence or just STFU. Another 10 seconds in this one, we'd have seen the Dawgs' first national coronation since, that's right, Herschel.