The University of Alabama has confirmed that Aaron Douglas, an offensive lineman, was found dead in Florida this morning. There are no more details regarding the nature of his death, but ESPN Insider's Albert Lin is ahead of the news in some awful way: earlier this afternoon, the "Rumor Central" writer published a post briefly mentioning Douglas' death, and then attempted to seamlessly segue into speculation about who might earn the open starting spot in his place.
Let it be said here that there is no way to seamlessly segue from mention of a player's sudden death — especially a death that was reported just hours before, and especially a death for which we have zero details — into a roster shakeup discussion. Lin, for whatever reason, tried. This might have lowered our expectations for Insider had we had any to begin with.
The full text of the post (which, as far as we can tell, has since been pulled from the site) reads:
Looks as if Nick Saban was prescient when he gave rising senior OL Alfred McCullough and rising junior RG Barrett Jones snaps at LT this spring. In what qualifies as devastating news on the heels of the tornadoes that flattened Tuscaloosa, juco OL Aaron Douglas, who was recruited specifically to replace James Carpenter at LT, was found dead in Jacksonville on Thursday.

Although it's far from the most important result of the development, Douglas' death leaves the door wide open for five-star OT Cyrus Kouandjio to seize the job when he arrives this summer. If Kouandjio is slow to pick up the offense, Jones could open the season as the starter, as Saban said that McCullough is more of a natural guard (he's only 6-foot-2).
Without Insider access (and as first noticed by SB Nation's @Nastinchka), the abbreviated post read, "Possible starter found dead in Jacksonville, opening door for five-star signee Cyrus Kouandjio."
Nick Saban's public thoughts are not yet on who will replace Douglas. "It is a tragedy anytime you lose someone close to you and even more so when it is a member of your family," the coach said in a statement. "[Aaron] was an outstanding young man and we were excited about what he had accomplished as a player and a person in the short time he was with us."
G/O Media may get a commission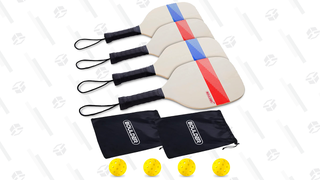 It's Pickleball
Pickleball Sets
Douglas, who had formerly played for Tennessee and Arizona Western College, was 21 years old. His father, David, played five NFL seasons, and his mother, Karla Horton, played basketball for Pat Summitt at Tennessee.
UPDATE: ESPN Editor-in-Chief Rob King apologized for the post on Twitter: "Apologies for the Rumor Central post related to Aaron Douglas' tragic death. It did not meet ESPN editorial standards and was removed asap."
Screen grab via @PootND.
Alabama confirms offensive lineman Aaron Douglas found dead [AL.com]
Offensive Lineman Aaron Douglas Passes Away [Alabama Athletics]