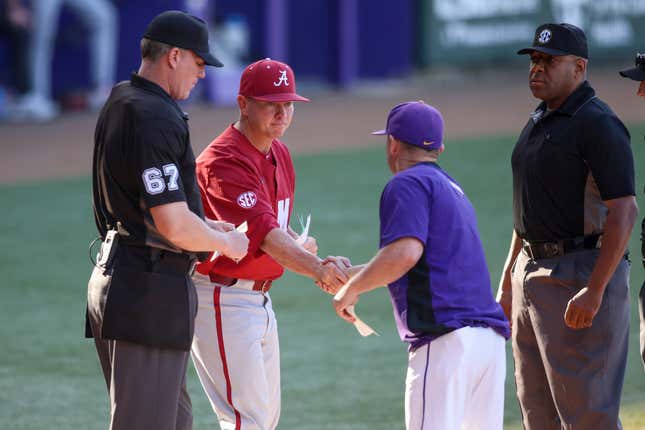 The average U.S. citizen could tell you college athletics is about as dirty of a business as you can find in America, and that's saying something considering the amount of filth stashed at Fortune 500 companies across the states. There are decades of gross agents, boosters, recruiters, and universities to drive home that point, and a still unpaid workforce to snuff out any modicum of the "amateur" sports' altruism. So, it's par for the trope that Alabama baseball is currently under fire for an alleged gambling scandal.
Ohtani has the WBC, but will Mike Trout ever lead the Angels to a championship? | Agree to Disagree
While the information is scarce and the story is still murky, the details paint an unflattering picture. Now-former Crimson Tide manager Brad Bohannon was fired Thursday from the school, with Alabama AD Greg Byrne citing the coach for, "among other things, violating the standards, duties, and responsibilities expected of University employees."
The Ohio Casino Control Commission is investigating two wagers placed at the Great American Ballpark's sportsbook Friday. Both bets were on the LSU Tigers, the Tide's opponent, to win. Seeing as Ohio regulators halted all Alabama baseball bets for suspicious activity Wednesday, and Bohannon was fired Thursday, it's not hard to connect the dots. The Athletic, citing two people briefed on the investigation, said the coach was found to be connected with betting activity in Ohio, leading to his dismissal.
Regular-season college baseball — shockingly — doesn't attract a lot of large action, and FanDuel said it didn't take a single bet on the LSU-Alabama game in question, according to ESPN. Pennsylvania and New Jersey also joined Ohio in banning bets on Alabama baseball.
I'd like to point out a detail you may have missed in that information upload, and it's where the bet was placed: At a sportsbook housed in the Cincinnati Reds' ballpark. The levels of irony involved in being able to legally gamble at the home of a team that once employed one of the most infamous sports gamblers in history, Pete Rose, is too much.
Add in that it's the site of an alleged gambling scandal involving a baseball manager, and it's a perfect detail to illustrate the sporting industry's laissez-faire approach to gambling across the board. The control panel is flashing red, and the response needs to be better than Homer Simpson handling a 513.
The temptation is greater in 'amateur' athletics
College athletics is currently a post-apocalyptic hellscape populated by all sorts of vile survivors, eager to compromise their morals for a chance to pick away at the bones of the NCAA's rotting carcass, and as such is ripe for these kinds of scandals. There are more teams, more opportunities, less supervision, and zero ethics. Only the popular kids get NIL deals, everybody else is left to fend for themselves, and not every head coach at Alabama is getting that sweet, sweet Aflac money.
If Gangrene could talk, and you asked it for the ideal conditions to infect, it'd point to the NCAA. If the NCAA was a bank, people would immediately wonder why it's unregulated, and how it hasn't collapsed yet.
A lot of college athletes are extremely vulnerable, and those are the easiest kinds of people to exploit. In addition to broke college kids, degenerates also are marks, and the sports industry has shown it can produce gambling addicts with the best of them.
During the recent boom of DraftKings, live lines, and same-game parlays, there have been a few violations, most of which were limited to bored, injured NFL wide receivers (weirdly enough, also from Alabama). While we don't specifically know what went on with Bohannon, the implication is that the integrity of the game was corrupted. So that's fun.