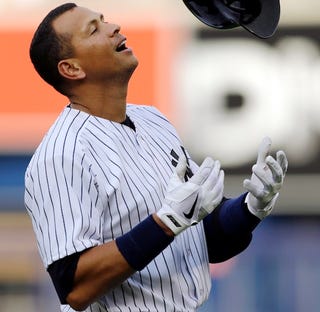 Alex Rodriguez is a free man. No, not baseball-wise—he still faces the prospect of a 211-game suspension. But after angrily storming out of his hearing on Wednesday then opening up to Mike Francesa, it's as if some huge weight has been lifted from his shoulders. Now's he sounds almost like a real human being.
His appeal hearing wrapped up yesterday. It'll still be a while—there are briefs to file, and rejoinder briefs, and it'll be January by the time the arbitrator makes his final ruling. But the newly expansive A-Rod is already on a media victory tour, sitting down with ESPN for his metaphorical trot around the bases.
"Today was nuts,'' Rodriguez said. "The support has been overwhelming in the streets today. People were jumping out of their fucking cars. I've been coming to N.Y. for 20 years and, including 2009, I have never had a more positive reaction in the streets. I couldn't believe this shit."
OK, maybe the self-delusion is still there. Nobody is jumping out of their car to tell A-Rod he's the man. But this is a fellow at peace with the universe. He's absolutely convinced his attorneys successfully argued his case in front of arbitrator Fredric Horowitz. "We crushed it,'' Rodriguez said, though it surely pained him to omit the word "bro." On MLB's case: "They had nothing.''
If Rodriguez has a regret—if one who has achieved pure inner tranquility can truly be said to have regrets—it's that he couldn't force Bud Selig to testify. It "would have been six hours of a good time," A-Rod said, but alas.
But wait. Even Rodriguez's legal team doesn't believe he'll get his entire suspension overturned:
"I firmly believe Alex should get a goose egg here, but Horowitz has to be prepared for this to be his last arbitration to do that,'' said Jordan Siev, one of Rodriguez's attorneys. "But do I think he would have the courage to give him a goose egg? I'd like to think so, but I frankly can't imagine Alex walks out of there with nothing.''
Just some passing clouds. The sun always shines on this new Alexander Emmanuel Rodriguez as he skips down the sidewalks of Manhattan, former haters now showering him with flower petals, his only concern whether Cooperstown will let him give a thumbs-up on his hall of fame plaque.