I'm just gonna cut straight to the chase: The Oklahoma City Thunder escaped San Antonio with a 98-97 win tonight to even the series up at 1-1, thanks to, uh, whatever the hell it was that happened on this final sequence.

As you can see, Dion Waiters just straight up arm bars Manu Ginobili, who also breached the out-of-bounds line, out of his face before inbounding the ball on an illegal jump. There were three cascading violations on the play; one on Ginobili which should have warranted a technical foul and two on Waiters which should have both turned the ball over to San Antonio. It was a big ole mess and tomorrow's last two minute report from the NBA will be fascinating.
Because Dion Waiters isn't much of a passer (why wasn't someone else in charge of inbounding the ball at the most critical juncture?), San Antonio still came up with it. They sort of freaked out at first, allowing the Thunder to regroup a bit before Patty Mills missed a three, a fan held Steven Adams back from the play after he contested Mills' three, and everyone did some wrasslin' under the basketball ring for the rebound as the horn blew.
After the game, Billy Donovan played coy, while Pop was as deadpan as you'd expect.
G/O Media may get a commission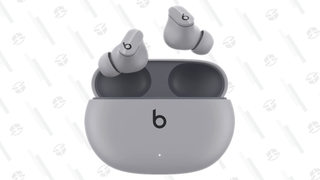 As for the first 47:47 of the game, it was wildly entertaining. OKC ran out to a big lead early, before Aldridge started feeling himself. The Thunder's biggest problem in Game 1 was their lackadaisical defense, which was much better tonight. Yes, Aldridge went off, but aside from two Danny Green threes after bad transition defense, Tony Parker, Tim Duncan, and Green only shot 5-for-26.
Kevin Durant dropped 28 on 19 shots and Russell Westbrook scored 29. Westbrook was huge early, but was pulled at one point after going 2-for-6 on six straight possessions in which he didn't pass. He and Durant c at each other as the Spurs were roaring back, but OKC rebounded just well enough (Steven Adams was a monster) to keep them at bay.
This is only San Antonio's second loss at home in the entire season. For all the overwhelming talent the Thunder showed tonight, the Spurs still out-schemed them and Pop out-coached Billy Donovan. That contrast, between a wildly talented team led by two forces of nature and a well-organized (and also very talented!) machine of a team, is what makes this series so fascinating. Billy Donovan rolled out some weird lineups tonight and even played Dion Waiters at point for a spell (I have no idea what's going on with their backcourt rotation). But when Durant has the type of efficient game he had tonight and Russell Westbrook uses his tremendous powers for good, it almost doesn't matter. After a boring and injury-marred first round, a series like this is just what these playoffs need.