The Patriot-News of Harrisburg (PennLive.com) has done yeoman's work covering the Penn State scandal. Sara Ganim, a reporter for the paper, has been the most dogged in ferreting out details, and her story today managed to get comments from the mothers of two of Jerry Sandusky's alleged sexual assault victims. Both women are understandably outraged at Penn State officials.
Jokic? Embiid? The NBA MVP is obvious... right? | Keep it a Buck(et)
The first is the one whose son, identified in the summary of the grand jury indictment as Victim 1, came forward two years ago with the allegations that triggered the grand jury's investigation. The second is the mother of Victim 6, whose complaint led to an investigation by university and municipal police in 1998—an inquiry that resulted in no criminal charges against Sandusky. According to the grand jury summary, Victim 6's mother even spoke to Sandusky on two occasions while a pair of detectives eavesdropped. And it was during one of those conversations that Sandusky answered, "I don't think so ... maybe," when the mother asked him point-blank if he had touched her son's "private parts" in a shower.
The mother of Victim 1:
A few weeks before her son broke down and confessed to a principal at Central Mountain High School in Clinton County that he was being molested by Jerry Sandusky—a volunteer football coach at his high school—his mother began to suspect something was wrong.

First, it was because her son was acting out. When she grounded him, she said Sandusky demanded he be able to "take care of it."

"I said, 'No way, he's my kid,'" she said.

Then, her son began asking her about an online database for "sex weirdos."

"You don't want to just accuse people of that," the mother said. "I called the school principal and the guidance counselor and said, if nothing else, he's taking my son out of classes. He's leaving the school with him. ... So I asked them to call him into the office and ask [my son] how he felt.

"They did call him to the office that day and I remember [the principal] was in tears and she said, 'You need to come here right away.'"

Her son, then 15, broke down and told them what happened.
The mother of Victim 6:
When the mother confronted Sandusky, he said: "I understand. I was wrong. I wish I could get forgiveness. I know I won't get it from you. I wish I were dead," according the presentment from the grand jury.

An investigator for Children and Youth Services broke the news to the mother: It was all a big mistake, the mother said she was told. The police officer who investigated won't comment. Neither will the former police chief.

"Jerry Sandusky admitted to my face, he admitted it," the mother said. "He admitted that he lathered up my son they were naked and he bear-hugged him. If they would have done something about it in 1998, and then again in 2002—there was two chances they dropped the ball and I think they should all be held accountable."

Her son, she said, can't stop thinking about Victim One.
Another bizarre twist: Ray Gricar, the Centre County district attorney at the time of the 1998 investigation into Victim 6's allegations, has been missing since 2005 and was declared legally dead in July of this year. We may never know why Gricar did not press charges against Sandusky, despite Sandusky's admissions—per the grand jury report—that he had showered naked with the boy and hugged him. The hard drive from Gricar's computer turned up on the banks of the Susquehanna River six months after his disappearance, according to this story Ganim wrote three years ago, when she was still at the State College, Pa.-based Centre County Daily Times. Whatever was on that hard drive will forever be the subject of speculation now.
G/O Media may get a commission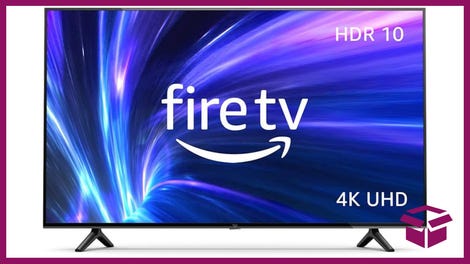 42% Off
Amazon Fire TV 50" 4K Smart TV
Ganim's story about the victims' mothers can be read in its entirety here. For an archive of all of her work on the scandal, go here. The Patriot-News also published a front-page editorial today calling for Joe Paterno and Penn State President Graham Spanier to step aside. That can be found here.
SEE ALSO: The Mystery Of Ray Gricar, The Prosecutor Who Failed To Prosecute Jerry Sandusky (And Who Might Be Dead)
Mothers of two of Jerry Sandusky's alleged victims lash out at Penn State officials' handling of scandal [PennLive]
Gricar hard drive yields no clues [Centre County Daily Times]
Judge asked to declare ex-DA 'legally dead' [Centre County Daily Times]
OUR VIEW: Penn State's Graham Spanier, Joe Paterno need to leave as result of Jerry Sandusky case [PennLive]
A Guide To The Child Sexual Abuse Charges Against Jerry Sandusky, And To Penn State's Alleged Willful Ignorance