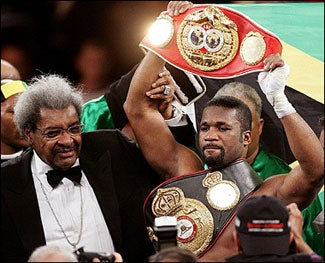 What boxers put themselves through while training for a fight can border on the inhuman; if Rocky IV is to be believed, it's so rough that sometimes they're forced to grow a beard just to survive. Current world cruiserweight champion O'Neil Bell added a new wrinkle to the training process: throwing hatchets at his sparring partners.
Deputies were responding to a possible fight off of Highway 38 (near Big Bear) when they found Larry Slayton - Bell's sparring partner - fearing for his life. He also had cuts from running through the brush. He told the deputies that Bell had become angry with him during training in the woods and he threw a hatchet he had been carrying for protection against bears. Slayton then claims he fled, dodging huge rocks Bell threw at him.
First off, we admire any boxing champion who throws hatchets at people; it adds a level of intrigue, danger even, to his public appearances. But mostly, we just like the idea that a guy would so devote himself to the cause of training that he would add in the obstacle of bears. Bears! If Bell could fight off a monstrous bear with a hatchet anyway, he's already earned any championship belts he doesn't already have.
I Think He Took The Training Sequence From Rocky IV A Little Too Far [Rumors And Rants]