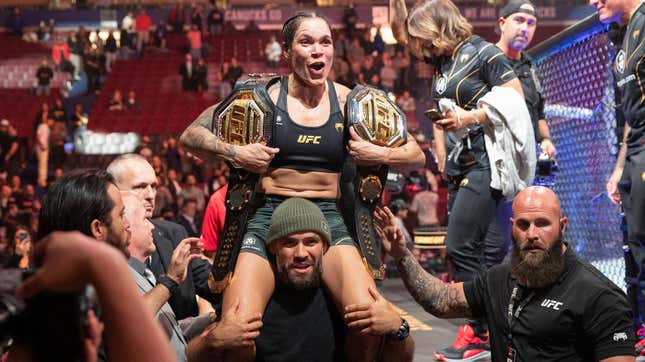 Legends come in all shapes and sizes and if people are too closed-minded to accept that fact, then they can miss truly special talent. Dana White's closed-mindedness almost caused sports fans to miss out on one of the greatest fighters of her generation — Amanda Nunes.
How running an NFL team is like running a restaurant | Chef Emeril Lagasse
She defended her bantamweight title as the headliner for UFC 289. The fight was never in doubt as she cruised to a unanimous decision victory against Irene Aldana. Then, while talking to Daniel Cormier after the fight, she laid both her bantamweight and featherweight titles on the mat, along with her gloves, and said she is calling it a career at 35 years old.

A career that will no doubt land her in the UFC Hall of Fame. She came to the UFC with a 7-3 MMA record, and lost her third fight. Nunes went on to win her next 12 fights, and became the first UFC fighter to hold two belts, and defend each of them. Nunes is also the UFC's first openly gay champion.
The Lioness grew into Simba and ruled all that she surveyed. A reign that would have never received its proper reverence if White had stuck to his original stance about women fighters. TMZ approached White coming out of a restaurant in January of 2011. They asked him when there would be women in the UFC and White said never with a wide grin on his face. This came a couple of years after he was unsuccessful at working out a deal to sign boxer Gina Carano to a World Extreme Cagefighting contract. Back in 2007, White said that he was "not a huge fan of women fighting period."
His statements came long after Laila Ali was well into a boxing career that she would finish undefeated. Ann Wolfe was also a well known name in women's boxing, and rival MMA organization Strikeforce had Miesha Tate, and Ronda Rousey on its roster.
The company that used to own UFC — Zuffa — bought out Strikeforce in March 2011. Then in November 2012, White signed Rousey. She quickly became a star by doing the same thing in UFC that she did in Strikeforce, winning all of her fights by stoppage.
That continued until 2016 when she was knocked out by Holly Holm, and lost the Bantamweight Championship. The belt quickly found its way to Nunes. Then Rousey and Nunes headlined UFC 207 in Las Vegas. It took Nunes less than a minute to end the fight and Rousey's MMA career.

Nunes would only lose once more as a professional fighter. That was to Julianna Peña in December 2022. She avenged that loss by pounding Peña for five rounds in July of that year to regain the Bantamweight Championship. Saturday night was supposed to be the rubber match between the two, but Peña suffered a rib injury in May, so Aldana was the substitute.
Peña certainly has sour grapes about not getting a third chance at Nunes, but she was getting beaten up by Nunes in the first fight until she caught the champion slipping, and forced a submission. She was beaten to such a bloody mess in the second fight that she went to the hospital instead of the post-fight press conference.
Maybe the right dollar amount could convince Nunes to make this third fight happen. This is the fight business so there is always a chance. She has nothing left to prove though. Nunes has been as dominant a fighter as the UFC has ever seen.
Thank goodness White came to his senses and allowed the space for a legend to be born.