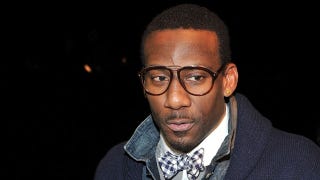 The editors of Bon Appetit magazine—better known as Gourmet for the moderately illiterate—dropped in on a lockout dinner party at Amar'e Stoudemire's house. We learned that it's good to be, uh, staring down a year with no paycheck.
Anyway, the resulting piece is a treat, and here are the sweetest treats contained therein:
Now Hardy, Stoudemire's personal chef, buys kosher beef and chicken and avoids pork-though there are allowances. "If Amar'e had a good game, he might want crab legs, or maybe lobster macaroni and cheese."
"We met through private jets," says one of the guests, Jesse Itzler, an entrepreneur who is involved with Stoudemire in a line of edible energy strips called Sheets.
We wish we could get more from Amar'e, but we couldn't reach his banquette at 1Oak.
Amar'e Stoudemire's Full-Court Southern Feast [Bon Appetit]