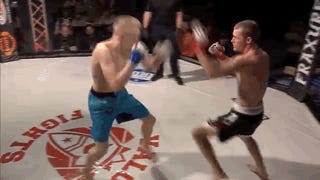 The man on the right up there is named Joshua Spears, and he recently got his face punched by a man named Preston "Ice Pick" Schick during an amateur MMA bout. How hard did Spears get his face punched? Hard enough to lose his tooth!
That little white thing that comes fluttering out of Spears's mouth in the GIF above is indeed a tooth. Check out the slow-motion replay:
Please note that Schick also punched the tooth out of the sky after knocking it from Spears's mouth. That's a pretty badass way to end a fight.
[Uproxx]