Bobby Petrino is no stranger to the thrill of flirting. His dalliance with Jessica Dorrell and their ill-fated motorcycle jaunt is only the latest in a just another notch in the belt-filled career. He's bounced from program to program and coached college kids and professionals, never staying more than a couple years in one spot—his resume might as well be spiral-bound.
It's why Pat Forde calls him the "disingenuous drifter," like, a thousand times an article. Petrino's addiction to the thrill is easy to understand, really. The idea of loyalty in sports is just as phony as Petrino. If one can get a better job, in a better environment that pays more, one takes it. No questions asked. The book has been out on Petrino for some time, yet owners and athletic directors enable him because he scores points, sexy points. Remember when Jake Plummer was great in college? Or When Mark Brunell was great in the pros? Petrino does, because he was there. And then he wasn't. Petrino has always been a flirt and only recently turned into a full-fledged adulterer. Lets take a look back, shall we?
2003: secret meeting with Auburn officials
2003 was Petrino's first year on the job at Louisville, mind you. He spent the previous year as offensive coordinator at Auburn. Maybe Auburn got cold feet at the thought of hiring a guy who was willing to sneak around his first year on the job and flirt with another school, (but come on, all those points) or maybe they were happy enough with a win the following week over Alabama in the Iron Bowl. Either way, it did not work out and Auburn was eventually forced to admit the meeting took place after Petrino swore up and down it had not. "'I'm a young coach,'' the Advertiser quoted Petrino as saying. 'I made a mistake.'''
2004: Notre Dame, Mississippi and LSU
This is all Forde. After the Auburn fiasco, Petrino reportedly used the same location (a southern Indiana airport) to have a meeting with Notre Dame officials about coaching the Irish. As presented by Forde, this appears to also have taken place mid-season. Notre Dame would later fire Tyrone Willingham and hire Charlie Weis. Petrino would also meet with LSU officials days after signing a contract extension with Louisville. He would later publicly withdraw his name from consideration at LSU after it was clear the job would go to Les Miles. Said Louisville AD, Tom Jurich at the time: "As of now, I will honor his contract. It will be up to him whether he wants to honor it."
2005: To go to the pros, or not to go to the pros
Although he ultimately turned down the Oakland Raiders and Al Davis' $18 million, he still obviously met with the team to discuss his options. In hindsight, this looks like a match made in heaven. "Just Win Baby" means just that. It's not "Just win, and be a good and decent human being, baby." Alas, it was not meant to be and Petrino would go on to say "he was flattered by the Raiders' persistence but that he was committed to Louisville."
G/O Media may get a commission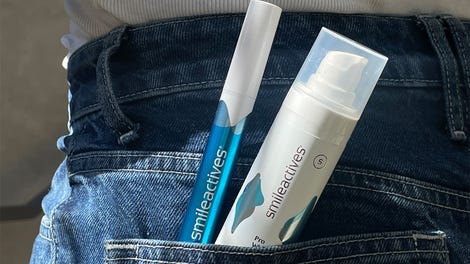 58% off
Whitening Powerhouse Pen & Gel Duo
2006: The rest of us meet Bobby Petrino
Up to this point, most casual football fans might not have known Bobby Petrino. We were about to find out. In July, Petrino would sign a 10-year extension at Louisville, making him one of the highest paid coaches in college. Petrino foil, Jurich, wanted a shorter contract but Petrino insisted. Not only did he want all those years to show his commitment to Louisville, he even demanded a $1 million buyout clause. "We did want to make a statement" Petrino would say. "I fully expect him to turn his back on other jobs," Jurich said.
2007: Woops!
On January 8, 2007 Petrino is announced as head coach of the Atlanta Falcons, succeeding Jim Mora, Jr. "'In short, he's a difference maker who will bring a strong identity to the Falcons — one our team will buy into and take on as their own,' [Atlanta Falcons owner Arthur] Blank said."
13 games into the regular season, Petrino would resign and one day after that, he would take the job he currently holds at Arkansas. Petrino would deftly sum up the decision in the most Petrino-like quote ever. "It was difficult on one side, very easy on the other. It was difficult to leave Atlanta, the staff, players, fans. The timing of it probably is the thing that made it most difficult. Coming to Arkansas was the easy part." To be fair to Petrino, this also coincided with the Michael Vick dog fighting scandal, but at this point Petrino had probably run out of "to be fair to Petrino" qualifiers. Mike Zimmer, likely speaking on behalf of most of his fellow Atlanta assistant who were not told of Petrino's move, would later go on to say "He's a gutless MF."
Miscellany
In his matchup with former flame LSU this year, Bobby Petrino—angry at Les Miles blowing out his Arkansas team—is caught, at the least, saying "Fuck You" and pointing across the field. With all his benefits of the doubt now officially exhausted, this is Bobby Petrino being a petulant, cry baby sore loser.
In December 2010, Arkansas radio personality Renee Gork claimed she was fired for wearing a Florida hat to an Arkansas press conference. "Petrino, whose team lost to the Gators last season 23-20 at Florida, commented on Gork's hat after answering a question she asked. 'And that will be the last question I answer with that hat on,' Petrino said."
Petrino's tenure at Arkansas may be coming to an end but, if history has shown us anything, his inability to keep his hands off other teams is reciprocated. Some athletic director, somewhere, will take one look at all those points and shoot him those come hither eyes.
Louis Dover, who coaches at Seneca High School in Louisville, perhaps best summed up the feelings many people in football have about Petrino. "As a coach, he's a genius, he's one of the elite minds," Dover said. "Personally, well, he's a good coach."
Will Arkansas fans back a sinning winner, or roast Bobby Petrino like they did Houston Nutt? [Yahoo]
Scandal Involving Petrino Goes Beyond X's and O's [NY Times]