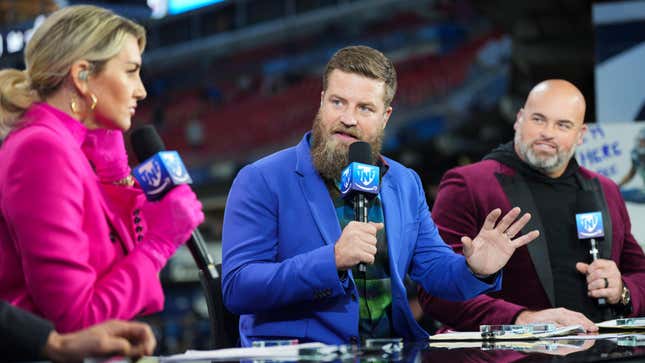 Is it at all surprising that a more difficult entry point for Thursday Night Football games led to a drop in ratings? With the news that Amazon had to compensate advertisers because it didn't meet the expected viewership numbers, it might be time to ask: How suitable is the streaming model for live sports?

5 Richest active NFL players | Money Mondays
It prevents cord-cutters from channel surfing, and for most of the streaming-verse, ads are either non-existent or truncated. So when you opt to turn on TNF, you have to be extremely invested in the game. There's no rerun or college football game to watch during the cascade of commercials, so you're just stuck on your couch, as bored as Al Michaels and Kirk Herbstreit, wondering what brought you to this point in life that you're taking in all four quarters of Colts-Broncos or Bears-Commanders.
Attention spans are shorter than ever (I'm assuming), and after the fourth or fifth consecutive three-and-out, Millennials and Gen Z'ers are out. For the older generations, the main issue is an obvious one, and that's getting them to Amazon Prime in the first place.
My dad just perfected the muscle memory of the recordings option on Xfinity, and he doesn't have the patience to switch platforms to avoid commercials (and he hates commercials). He'd rather just watch Tales of Wells Fargo than be subjected to shitty football and that infuriating Burger King jingle.
Will Sunday Ticket also see a ratings drop?
When Sunday Ticket migrates over to YouTube, it won't have a lot of TNF's problems because football fans theoretically will be able to flip back and forth between games on a single app. Hopefully, it's not as clunky as the NBA's League Pass service that makes you press a shit ton of buttons to flip between games. I remember a time when the "last channel" button was one of the most valuable on the TV remote. Hitting "back" is infinitely easier than the multistep process it takes to toggle between NBA contests, and when you add in the four-to-six broadcast options, it's even more time-consuming.
(Booth preference isn't as big of a deal in the NFL because they use national guys, but I will fucking die before I listen to the Boston's homers call a C's game.)
We'll see how user-friendly the next evolution of Sunday Ticket is, but YouTube has the distinct advantage of having all the content on one platform.
Will Amazon's slow start deter other streamers from live sports?
For whatever reason, Thursday Night Football has been used as a showcase for teams not usually good or popular enough to merit the Sunday night or Monday slots. If I'm Amazon and just shelled out $1 billion for a subpar slate of games, I'm asking the NFL to assist with the "make goods" that the tech company has to give its advertisers.
Apple's foray into MLB games wasn't well received in its first year. Between the no-name announcers and crucial parts of Aaron Judge's home run chase being sectioned off for Apple users, it wasn't appointment viewing until it was, and then fans were left scrambling. And that would make me nervous if the NBA ever moved its Thursday night doubleheaders to Hulu or Peacock or whatever.
The last thing leagues want to do is limit exposure, and just because you have all those subscribers doesn't mean they're all sports fans. Honestly, it's probably somewhere in the middle considering people initially signed up for those services because of the movies and TV shows. The thought is that live sports will incentivize fans to join, but if you've already paid for cable, League Pass, Sunday Ticket, NHL Center Ice, or the MLB package, the tab quickly adds up.
This also makes you wonder when the monumental TV rights deals will cool off. There are only so many stoppages in a game, and there's already been pushback on broadcasts abusing the split-screen ad/live game quirk to sneak in 15 seconds about the new Hyundai Elantra.
If ESPN or NBC ever cede control of Monday or Sunday Night Football, it'll be interesting to see how many streamers line up to fork over the $1 billion-plus asking price.
There hasn't been much in the history of NFL football to negatively affect ratings, and while it's unclear if Amazon's TNF was just a slow start or a bad investment, it should be enough to at least give companies pause before dropping a cool billion on live sports TV rights.