It was announced this week that Hannah Storm and Andrea Kremer would become the first duo of women to call an NFL game during tonight's Thursday Night Football game between the Vikings and the Rams. Joe Buck and Troy Aikman would work the television broadcast, and Storm and Kremer would work the Amazon Prime streaming broadcast.
The logistics of this would be a little clunky: Kremer and Storm would be calling the game out of a studio in Connecticut, while watching the Fox feed on a television. But the duo seemed genuinely excited to do something different with their call of the game, per a Q&A with Lindsay Jones of The Athletic:
One thing I'll add to that is as Hannah sort of alluded to, we've watched a lot of football through the years, and there's a language of football that exists and I'm going to go out on a limb and say that there's a lot of people out there who don't necessarily know what things mean, but they sound really good. A Gap penetration. Backside penetration. Rub routes. RPOs. Jet sweep. They sound good, but what we want to do in our analysis is I think we want to explain some things, and we want to tell people what they're watching, why they should care about it, and above all, why they should care about watching this game. What the storylines are, that's how we view the game.
This was exciting news, and an overdue development, and ultimately it did make the Amazon stream seem like an appealing alternative. But if you turn on the stream right now you will hear none of this, and instead you will hear the familiar Buck-Aikman routine. This, it turns out, is not a bug.
G/O Media may get a commission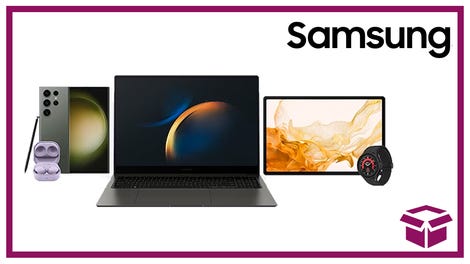 24 hour deals
Discover Samsung - Daily Deal
If you navigate to the language settings, you will see that in addition to working the television broadcast, Buck and Aikman are also working the default English broadcast, while the broadcast in, uhh, Women is tucked away under English (UK) and the Spanish language broadcast. The good news is, Storm and Kremer are doing a fantastic job, if you can manage to find their call. Sheesh.

H/t Adam