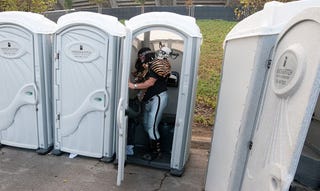 Got an image you'd like to see in here first thing in the morning? Send it to tips@deadspin.com. Subject: Morning crap.
Look, I get that Raider fans are super dedicated to their team and the elaborate costumes that are cooked up by the citizens of the "Black Hole" are part of the fun and spirit of football (and maybe the only reason anyone even attends their games.) But ... and I'm just spitballing here, I'm no expert really ... have you considered taking the shoulder pads off before you get in the port-a-potty? Just a thought. I would just hate to see you lose one of those skulls down the other "black hole."
This picture was taken by photographer Mark Lutzker and you should really check out his whole gallery of shots from the Oakland parking lot, because Raider fans sure are, um ... interesting.
Oakland Raiders [Mark Lutzker]
* * * * *
It's Veteran's Day, so if you know someone who was in the military, today would be a good day to not spit on them.
Did you know that this song was made famous by the movie Rush Hour 3!? (Come on, YouTube. You're better than that.)