It's that time of year—the five-week period when people who could not care less about horse racing the other 47 weeks of the year suddenly become experts in animal husbandry, gambling and stupid hats.
Yes, the 135th running of the Kentucky Derby is almost here and for today at least, I will be one of those experts. You see, I like to play the ponies once in awhile, but I simply don't have time to "research" and "learn" the intricacies of thoroughbred racing and/or parimutuel betting. So I've developed a system based on analysis of historical trends, thin-slicing of available information and whichever horse's name I like the best. Oh, and pure raw guesswork. That seems to be what works best for me.
So let's examine the field and see if we can pick a winner. Odds are current as of Friday afternoon.
50-1: Mine That Bird, Join In The Dance, Atomic Rain, Summer Bird, Nowhere To Hide, Flying Private
It's easiest to break down them down by group and eliminate the sure losers first. For example, don't take a horse named after a bird. If you're going to bet a long shot, take Atomic Rain, because Atomic Rain sounds like the name of a crappy metal band that thinks it's hardcore, but prefers to play Motley Crue covers. Plus, rain that is atomic would be like ... awesome.
G/O Media may get a commission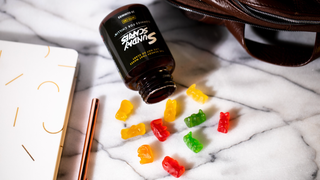 10mg CBD Gummies (22-Count)
30-1: West Side Bernie, Mr. Hot Stuff, Advice, Regal Ransom
I'm sorry, if you work at Churchill Downs and someone comes to you and says I would like to enter my horse in the Derby and you ask what the horse's name is and he says "Mr. Hot Stuff" ... you should slap that person in the face with a leather glove and then give them a wedgie. This is the fuckin' Derby, not playtime for Barbie's friend Skipper. Avoid all these horses like the plague.
20-1: Musket Man, Papa Clem, Chocolate Candy, General Quarters
These are what as known as value bets, because bets that never get paid off create great value for the house. General Quarters is the sentimental favorite and lots of bettors will be loading up on him tomorrow, because the odds are long enough to fool people into thinking they can make a big score, but not so long that they look like a total moron who is just throwing money away. (But they are throwing their money way.) If you feel you must take a chance on one of these, take Musket Man to Show because he drinks Guinness.
15-1: Hold Me Back, Desert Party
You might be tempted to pick Kent Desormeaux because you have heard his name before, but don't do that. The jockey is irrelevant. They can't make the horse run faster than he's able to and the best they can do is just not screw it up and ride him into a lake or something. Sure, experts will tell you about a jockey's ability to navigate tough alleys and control the pace, but we all know they are pretty much just along for the ride at this point. Don't let a famous name confuse your well-honed instincts about a sport you don't understand.
Now the favorites:
5-1: Friesan Fire
4-1: Dunkirk
4-1: Pioneer Of The Nile
3-1: I Want Revenge
Pioneer of the Nile is just too fancy and complicated a name to ever belong to a champion. Dunkirk sounds regal, but is actually the name of the world's most famous retreat, so that hardly inspires confidence. People seem to like I Want Revenge, but everytime I hear the name I always think of that mediocre indie band "She Wants Revenge" and I just couldn't bring myself to root for that. You go with your gut on these things—that's where all the great gamblers earn their keep!—and my gut is telling me that I would like a soft pretzel without too much salt. Friesan Fire is short, punchy, and doesn't make much sense. At a reasonable 5-1, that sounds like a Derby Winner to me.
My Superfecta:
Win: Friesan Fire
Place: Desert Party
Show: Dunkirk
Fourth: I Want Revenge
Bonus bet: Don't drink Mint Juleps tomorrow. They're terrible.