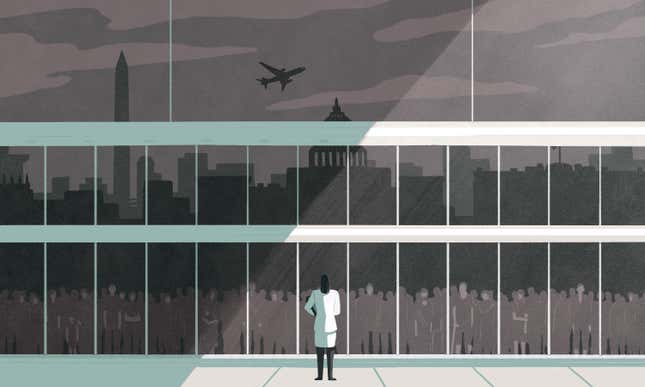 Last weekend our president issued an executive order that indefinitely banned Syrian refugees, and banned citizens of seven assorted countries from entering the United States for 90 days. You don't need strain too hard to read it as taking aim at an entire religious group—especially when the ghouls responsible openly admit that was the initial goal.

Aaron Rodgers should go full Joe Namath | Comedian Bert Kreischer
The new policy has led to the detention of tens of thousands of innocents at airports across the country, in opaque circumstances, at the hands of officials who are themselves confused about what rules to enforce and how. So immigration lawyers have flocked to the airports to ensure those travelers have access to good legal counsel. Among them is my sister, Nithya Nathan-Pineau, who spoke to me about her work at Dulles Airport this week and how the general public can aid her cause. One cruel fact about all this: The same federal government that has made her group's work so direly necessary is also capable of undercutting its resources. Uncertainty is the prevailing mood in her field. These lawyers need more support than ever from the general public, in the form of demonstrating effectively, pestering our lawmakers, and opening our wallets to smaller groups working directly with detainees.
What have you been doing at Dulles this week?
I'm here with the Capital Area Immigrants' Rights Coalition to offer free legal consults to anyone who is detained or held in the airport and also to offer information about the president's executive order to families and protestors. We are here to show solidarity and support and also to make sure that accurate legal advice gets out there. We are also collecting stories from family members of people who are stuck abroad.
Who have you been talking to?
We have talked primarily to green card holders. We've talked to people from Iran, Syria, Peru, Somalia, Sudan, Egypt, Pakistan, and many other countries.
Why are they being detained?
The executive order was originally interpreted to include all travelers from Yemen, Syria, Iran, Iraq, Somalia, Sudan, and Libya.
But people from other countries were also detained? Peru and Pakistan?
Yeah, it's not clear that there is any rhyme or reason. We spoke with a woman who was a German citizen of Iraqi descent. She was kept for a couple of hours.
What are they being subjected to?
It sounds like many legal permanent residents are being pulled aside and questioned. We have heard that people have waited anywhere from one hour to seven hours.
We did get confirmation today that they have been distributing lists of legal-service providers to green card holders. [On Monday] Senator Kaine came to the airport and told us that Customs and Border Protections told him that green card holders were being allowed through. We don't have much information about other classes of visa holders.
We do know that two Yemeni brothers were coerced into signing away their green cards and they were deported. They are the subject of ongoing litigation. That was on Saturday.
What kind of state are the detainees in when you talk to them?
People are exhausted, hungry, relieved.
How are you planning to combat the harmful effects of this executive order?
We have to take a multi-pronged approach: litigation, education, and fighting deportation. We are gearing up to deal with more detention and very aggressive enforcement.
This executive order is terrible and causes panic, confusion and fear. But the executive orders from last week have serious consequences for our ongoing presence. ICE is going to be beefed up. More people are going to be detained and facing deportation. Sanctuary cities are facing attack.
We don't know what the state of the law will be, or how it will be implemented. We know it'll be harder to defend our clients. We'll have fewer traditional funding sources, and our clients will be more afraid.
How can people help?
We need volunteer lawyers. We need volunteer interpreters. We need people to demonstrate and speak their minds. We need people to speak to lawmakers. We need people to support us financially because our funding and access is at risk. Donate to smaller local nonprofits doing direct representation. The ACLU is awesome and important, but there are lots of other groups out there working closely with detainees. [The ACLU has raised over $31.5 million since Friday, when the executive order was first signed.]
Our specific organization has a contract with the federal government that allows us to have access with detainees. They could limit our access, cut our funding, or just abandon our contract. We don't know what will happen. That's the hardest thing—right now we have no idea what immigration law and policy will look like week-to-week or month-to-month.

What kinds of demonstrations have you found most effective?
I think demonstrations that have a specific ask are helpful, and that also give people follow-up steps like calling their congressperson about a specific issue.
What should we say to our legislators?
1. People should ask legislators to make public statements against the ban.
2. They should reach out to legislators about specific individuals that need attention, either because they were detained or not allowed to enter the US and returned to their country of origin.
3. They should ask legislators to keep statutory protections in place for immigrants and refugees.
4. They should ask their legislators to be pro-DACA [Deferred Action For Childhood Arrivals] and express support for it.
Some of the legislators do care and have staff who can help to coordinate advocacy efforts for families being separated by the executive order.
Anything else you want the public to know?
The Trump administration has not been transparent or communicative, and only through public expressions of opposition, litigation, and representation of detained people can we fight back against these policies. I also just want to remind people that this is a long battle—don't get activist burnout. We've had encouraging rulings in Boston, New York, Virginia, California, and Washington, but they are all temporary. Stay informed and stay outraged.
You can donate to CAIR Coalition, volunteer translation services, or do pro bono work. You can get contact information to call your elected representatives. You can find an immigrants' rights organization near you to aid someone in need.