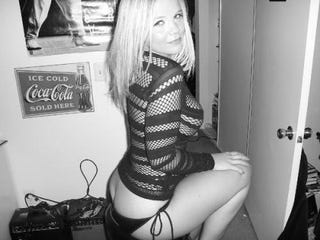 Welcome to Great Moments in Drunken Hookup Failure, where we showcase four heartwarming true stories of drunken love gone horribly awry. Off we go.
Ever wonder how the porny folks at Naughty America do location scouting? READ ON, people. Even porn stars get cockblocked every now and then.
Wingzilla:
I lived out in Pacific Beach, San Diego for a spell post-college and 6 of us had a big old shitty-but-awesome house a couple of blocks from the beach. One of the dude's who I lived with girlfriend, Katie, had all kinds of promotions jobs and at some convention she went to, she met the marketing guys at naughtyamerica.com. She said they told her they do these "college parties" where they get alcohol and various other party supplies and film the party then have some of their professionals get down and dirty and make it out as if the porn people were actually just regular kids like us at the party.

So, we joked around for a while about how we were going to do this but it was usually just drunk talk and we never really pushed for it. Eventually, we did get to being pro-active and actually go through with making it happen. Katie made the call, and things moved pretty quickly. They told us they'd get us $500 for alcohol and a DJ and light person for the garage. Which, to be honest, was a much sweeter deal than we even really imagined. The only thing they asked in return is that we have a bunch of people there and that there are no underage kids.

In a way, we kind of never really believed it was going to happen, I guess just because it seemed pretty freaking crazy that we'd be part of something like that. But, we proceeded with the plan and the Saturday of the party arrived and low and behold the marketing dudes showed up with the cash and the light guy and DJ came and set their crap up and we kind of realized, this shit was really going down. So, through the day, all of us that lived there and various other buddies proceeded to get about as fucked up as we've ever been in our lives, largely because the thought of watching people who are paid to have fuck actually bang it out in MY BED (I agreed to it because I already knew I was heading back east soon and thus would not be in the bed much longer, not sure about that logic now) was somewhat daunting, hilariously daunting, but nonetheless, not something to be watching sober, by any means. So fairly early in the evening, the porn stars all showed up, as did all the lights guys and cameramen and the director even told me I did a good job setting up my room to look like a "college looking room."

Tons of people had come to our house, I mean, it wasn't hard to have a big party out there in the first place but with the promise of filmed fornication, this had become quite a shindig. Meanwhile, in the place I laid with my now-wife when she came to visit, they started looking at the angles for the filming and the best lighting and shit like that. So anyway, everything seemed to be going fine and it was kind of like we were all hounding them a lot to try to get it to happen but something was holding it back.

Since it was in my room and I was wasted enough to think I was in charge, I would keep going into my room to talk about the shit with the guys in there. Finally I found out the hold-up was that one of the chicks didn't have her papers, whatever the fuck that means.

Anyway she was going to go have someone get them but it kind of sounded like she was just saying that and she really couldn't get them, but there kept being glimmers of hope that it might happen. After a while longer I was just talking with the main guy, just me and him in my room and I was like "What the fuck does it mean that she doesn't have her papers?" and he said, "it pretty much means she has a disease."

Suddenly, I was not as disappointed that this ship seemed to be sinking. Porn sluts squirting and gagging and whatever else in my bed seemed fun for sure, but gonorreheal liquids flying and herpesian hairs in the sheets was not as appealing.

So you learn something every day and apparently today's lesson was, to be in a porn, you have to have monthly STD papers and you have to have them with you at the filming. Eventually the porn "stars" left and the camera men stuck around for a little while, I suppose still trying to get some footage to splice in with some other "college party gone wild" porn, and doing some Real Sex type little interviews and whatnot, but the memories get less and less clear from there. The DJ continued to play and we still had a great party, it just wasn't the sex fest we had expected. In retrospect, I guess it went about as well as it could have. As funny as having a porn filmed in my room with all of my UVA posters in the background and shit like that would have been, it still would have been pretty weird to sleep there with disease-filled-professional-sexmaker juices splattered all over the walls for a few weeks. So essentially, we got to have a free party, a great story, and no Chlamydia.
Everyone wins when a porn actress has a surprise STD!
Eli:
I am a religious Jew. For all of you who don't know, there is a Jewish law where, when your wife has her period you are forbidden from sleeping with her during her period and for 7 days after. For religious Jews like myself, we may not touch each other AT ALL until 7 days after period as an extra precaution. It's a really serious and important law, but it's and one of the hardest laws to keep - for obvious reasons.

My wife was on a new type of birth control and it was screwing up her cycle causing her period every 2 weeks or so - which really screwed us over cause every time her 7 extra days were almost over she'd have her period again. It was really hard for me - my feelings weren't the only things feeling blue - but it was very difficult emotionally for her. This had gone on for 3 months! Not only no sex, but no touching whatsoever.

Finally, our Dr. allowed us to switch birth controls and her cycle was normal. On that first night we go out for a nice dinner and drinks and we are both buzzed. We get home and we're going at it like animals, groping each other, biting, you name it - after living in the same house, not being allowed to touch each other, for 3 months - lets just say it was on. Big time.

At one point I come back up for some air, and i look at the bed, and at her, and then at me, and we are COVERED IN BLOOD. We both FREAK OUT, and she runs to the bathroom fearing the worst, as i sit devastated, confused and in total shock.

She comes back from the bathroom and she doesn't understand where the blood is coming from. We both look around and we have no idea, but she sees the $400 bedsheets covered in blood and she freaks out, runs to get a sponge and soap because "we have to clean it before it sets in!"

20 minutes later she's exhausted from the "pre-sex" and the cleaning and totally out of the mood.

I go to the bathroom and notice that i had been the the cause of all of the blood - my penis had a small cut on it and i didn't realize. I tried explaining to my wife that it was a fluke thing and that we should continue the festivities, but she was too tired, too upset, and not in the mood.
Wait a second. There are RELIGIOUS Jews?!
Mike:
My junior year of college I went to visit a friend up at his school. A big group of people are at his place boozing it up when I arrive, including this one girl that immediately starts flirting with me. I can tell by looking at her that she has a wild streak in her - but boy did I underestimate it.

Fast forward to later in the night. Since I am visiting she offers to let me "crash on her couch" but I know what really means. As soon as we get back, we head to the aforementioned couch - and this girl seems determined to give new meaning to the phrase "going at it". She is biting my lip every time we kiss - to the point where I have to dodge her mouth since I am in so much pain. Finally we get naked and she hops on top. She starts throwing her body around like an insane person - I think she is gonna break my dick off. In a moment of pure fear I blurt out "are you serious with this shit"? Apparently that comment killed whatever mood she had been in and she jumps off me, runs to her room and locks the door. It all happened so fast and I am still pretty horny so I go to the bathroom to finish myself off. In my drunken state I forget to lock the door and her roommate walks in on me - butt naked and going to town on myself. She freaks out and starts screaming at me to leave. I grab my shit, get the hell out of there, and performed a walk of immense shame across campus.
The caught masturbating part is really the icing on the cake there. Literal icing, I suppose.
Mitch:
So it's my junior year of high school and were at one of my friends house parties. I'm talking to this girl, well call her Stacy, and things are looking pretty good. Now, to put it kindly, Stacy is a bit more experienced than I am, which is a known fact around my school. I don't really care because I'm piss drunk, so when we start making out in the kitchen and she asks if we want to find a room, I'm all for it.

We go upstairs, find a room, lock the door, and continue with some dry humping and more making out. No more than 30 seconds after we get there, we hear someone trying to get in the room. Luckily I remembered to lock it, and continued with business. She now unbuttons my pants and begins the downward descent. At this point in my life, this would have been my first bj. Needless to say I was pretty fucking excited. Unfortunately, a few seconds before it begins, I hear what sounds like an explosion, look up, and see one of my friends standing next to the door he just kicked in. "Oh, THAT'S why it was locked" was all he said before turning around and leaving. This of course scared the fuck out of Stacy, who refused to continue despite my best efforts. My first bj was over before it even started. I saw her making out with another guy later that night.
That's so typical, yet so horrible all at once. Happy 4th, gang.