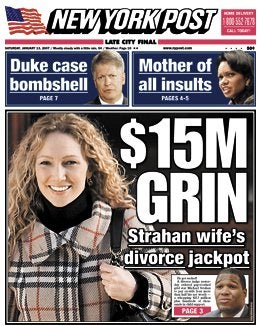 The offensive linemen who line up against Michael Strahan on Sundays just got a whole lot of new ammunition for trash tralk. And Strahan can't run from it, either, because he's going to have to play football for a loooong time. He can't afford not to.
I'm a little late with this, but Strahan's lovely ex-missus was awarded $15.3 million in divorce court. She's actually getting more than half his net worth. Court records indicate he's worth about $22 million, and she's getting the $15.3. I don't know what's right or wrong, or who deserves what, but damn. It just hurts to see that happen for a guy.
The NFL should put him on the payroll to tell this story at the rookie symposium every year. He'll start out lecturing calmly about prenuptial agreements and protecting your financial assets... but by the end, he'll be crying and telling the rookies that they should never touch a woman again, because they're just not worth it.
Eddie Murphy tried to warn us all about "half."
$15 Mil Penalty Topples Giant [NY Post]