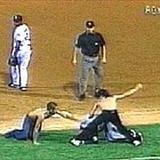 By excellence, I mean "providing proof that some human beings aren't fit to parent, coach youth sports or be a parent who coaches his/her/any children in youth sports."
Meet Ray Boudreau, of the Harrisburg, Pa. area. He's a youth-baseball coach and father. It seems that Mr. Boudreau (pronounced: Billy Martin) was unhappy his lad got ejected for throwing his helmet after he got thrown out at third. So what did good ole Boudreau do? He punched his nine-year-old in the face. Twice. Allegedly.
I say allegedly because, in an AP story about the Incident That Proves Parenting Licenses Are Necessary (or ITPPLAN), his defense attorney was all (and I paraphrase), "Yes, my client wasn't at his best on Monday, but he only hit the kid in the back. So, could you find it in your hearts to just help a father out?!" Yep, it's gonna be like that.
Coach will be in court July 27, after what will surely be two-and-a-half fun weeks around the Boudreau compound. Good luck, kid. It won't get any easier from here.