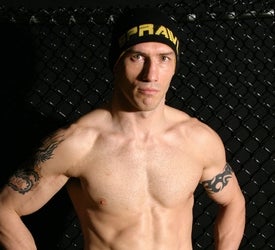 As the marketing monstrosity that is MMA continues it is attracting sponsors who want to break out of their one sport reputations. Enter AND1, basketball gear company and newest sponsor of the bloody sport. The company has announced its partnership with MMA fighter Nate Quarry.
And1 is primarily a basketball company, best known for its moderately priced footwear and apparel as well as the high-energy mixtapes that functioned as guerilla marketing and launched the brand into national consciousness. The California company, however, recently decided to dip its kicks into the waters of MMA, signing popular UFC middleweight Nate Quarry to a multi-fight sponsorship deal.
The sponsorship will debut during Quarry's UFC match on November 15. According to Quarry, the sponsorship kinda doesn't make sense. Why would a basketball company have in interest in MMA?
"On paper it almost makes no sense whatsoever. I can't wear basketball shoes into the octagon," Quarry said with a laugh. "But And1 believes it's great exposure for their overall brand. They are big fans of the sport and the whole company is excited about it."
Ah, there is it. It's all about the money. So while the fighter doesn't get the connection, the executives at AND1 totally get it. Right?
"More and more athletes like Steve Blake train with MMA training methods." says Rod Keller, And1's director of brand and sports marketing. "It's a phenomenal workout. So is there a correlation to basketball? Yes. Is it logical? No."
Oh. OK then. Kudos to And1 for recognizing that there's a current trend in MMA popularity. But are they ahead of the curve, or are they just getting their asses kicked so bad in the basketball world by Nike and Adidas that they're looking for a new home?