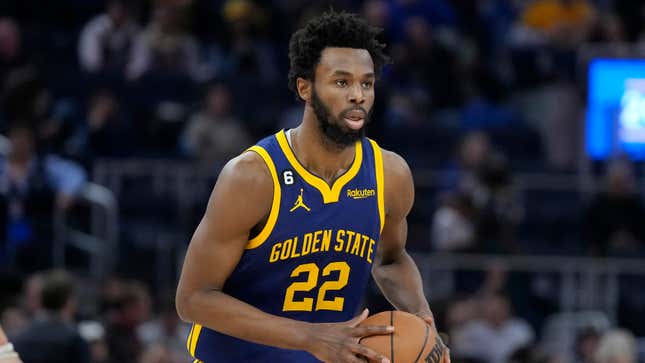 Entitlement in sports is nothing new. We see it every day, especially in the social media age. Whether it be the athletes participating, organizations, or fans, everyone feels they have a right to something. Wednesday morning in San Francisco, a sensitive topic was broached by the morning show on 95.7 The Game, asking whether Warriors forward Andrew Wiggins owes fans an explanation for why he's been out for so long.
How Andrew Wiggins poster on Luka ended the Mavs
The station's morning show, dubbed The Morning Roast, posted this conversation in a now-deleted tweet and lit social media ablaze. Of course, this sparked the debate that bled onto the show, with fans calling in to voice their opinion. Most fans want what they want and can only see what benefits them.
We won't generalize because some fans understand this is likely a very serious time Wiggins is going through. But too many are worried about betting interests or how this affects the team's championship aspirations. Take a look through the comments on the above Twitter post, and you'll see exactly how unempathetic some people can be.
Another aspect of this situation is the station, 95.7 The Game, and whether this should've even been something up for discussion. The team has spoken about Wiggins and hasn't given much information concerning their teammate. Should The Morning Roast have even been allowed to get into this topic, knowing where something like this could lead, especially via social media?
Warriors general manager Bob Myers went that afternoon and gave his thoughts on Wiggins' absence.
"I haven't heard anything along the lines of he's not coming back. There's speculation on that, but I haven't been told, 'hey, look, I'm not coming back. Nobody said that to me."
"Nothing different than before. Same answer... We got to respect him and his life and his privacy."
That should be enough for everyone wondering what's going on with Wiggins. But of course, it won't be for some. It's not only fans but also members of the media who feel like players owe an explanation for every little thing going on in their lives. Sure, we all have a job to do, but sometimes, certain things need to be left alone. Everything doesn't need to be for public consumption. Yes, that's what the social media climate dictates, but you don't always have to follow suit.
Privacy has become so sacred because we all forfeited some of ours with the emergence of so many social media platforms over the last decade plus. So many players in every sport, even down to the high school level, live out every moment publicly. It's not always a conscious choice to do so. Go back to Antonio Brown going live on Facebook while still a Pittsburgh Steeler. Those other players didn't choose to be filmed immediately following a game in the locker room, whether they were ok with it or not.
Not everything needs to be consumed by the masses. We would all love to know what is happening behind the scenes with Andrew Wiggins. Some people genuinely care about his well-being, but if Wiggins sees fit to keep it private, that should be respected. End of discussion.