When the NFL totaled up the votes and named six QBs to the Pro Bowl, it also drew up a list of alternates for when players inevitably bailed due to injury or just having better things to do. That list of alternates goes down a long way. Andy Dalton, basically the King Ralph of quarterbacks, is a Pro Bowler.
This does, at least, explain why Dalton, who threw 17 interceptions to 19 touchdowns, is going to Glendale. Credit to PFT for pointing it out:
The math checks out (remember, conferences don't matter at the Pro Bowl any more):
Of the original six QBs named to the game, only two are still scheduled to play: Andrew Luck and Tony Romo. Before this weekend, two others—Peyton Manning (injury) and Ben Roethlisberger (injury)—had dropped out.
First alternate Drew Brees replaced Roethlisberger. The NFL approached second alternate Philip Rivers to replace Manning, but he declined as he's recovering from injury. Third alternate Russell Wilson is heading to the Super Bowl. Fourth alternate Matthew Stafford stepped up and will play in Manning's place.
When the Patriots won on Sunday, that meant Tom Brady—who was part of the original six—had to drop out. Fifth alternate Matt Ryan took his place.
Today it was announced that Aaron Rodgers, who was also among the original six, has pulled out to recover from his calf injury. The NFL turned to sixth alternate Joe Flacco, but he declined because his wife is expecting their third child.
G/O Media may get a commission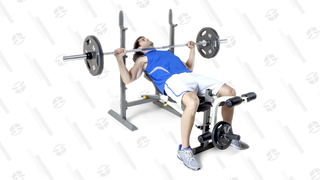 10% Off
Marcy Folding Weight Bench
That left seventh alternate and 13th overall choice Andy Dalton. All those boldface names up there? Those are all the QBs the NFL wanted to play in the Pro Bowl instead of Andy Dalton. But we're getting Andy Dalton anyway. Cancel the Pro Bowl.