Because no one reads the newspaper, and SportsCenter's anchors are too perky for this early in the morning, Deadspin combs the best of the broadsheets and internets to bring you everything you need to know to start your day.
• Our photo here, shot by Marlin Levison of the Minneapolis Star Tribune and found by the lads at Out of Bounds, depicts a small child in the aftermath of either an unsuccessful attempt to ride another sheep or a very successful attempt to re-enact Shari Lewis's career.
• The Knicks land Amar'e Stoudemire (five years, $99.74 million), which makes at least some sense. What doesn't is how the Suns rooked themselves out of a couple minor assets (subscription required) by mistiming their offseason moves. This probably has something to do with their not having a general manager or an assistant general manager, and the poor intern who's running the show there would do well to look up "sign-and-trade" on Wikipedia or something.
• Tiger fired a 7-over 79 in the first round of some Irish pro-am, and otherwise little was notable except for the the little Beckett play that broke out at No. 6:
At the 6th tee, he stopped at a concession stand and munched on two bunless burgers. "Don't you want any ketchup?" asked a fan nearby in a plastic lawn chair. "I'm good," Woods replied, before asking his Irish caddie if he wanted a burger too.
G/O Media may get a commission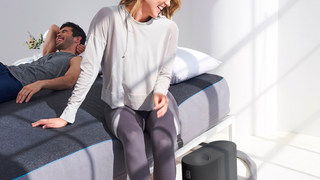 Eight Sleep Pod Cover
• The body of Bobby Fischer, at whose crazy altar some of us spent our awkward years worshiping, has been exhumed to determine if he is the father of a 9-year-old Filipino girl.
• The intersexy Caster Semenya is returning to competition.
* * * *
Good morning. It's Tuesday, and it's miserable.