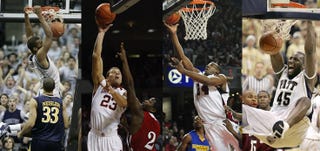 All four of these highly regarded young big men (from l to r: Georgetown freshman Greg Monroe, Oklahoma sophomore Blake Grffin, Louisville freshman Samardo Samuels, and Pitt sophomore DeJuan Blair) led their respective teams to wins in last night's college basketball action. Continue after the jump for the recaps. • Griffin does it all to secure a win. Oklahoma was carried to a narrow 80-76 victory on the shoulders of super-soph Blake Griffin. The 6'10" 250 pound monster tallied career highs in both points and rebounds with 35 and 21 respectively. Oh and he also led the team in assists with 5. The Runnin' Bulldogs of Gardner Webb drop another heartbreaker, their third straight to start the season following losses to Virgina Tech and Longwood by a combined four points. As for their mascot, I grew up with a bulldog and she did very little running. But when she did it was pretty awesome. • Blair puts the Zoo in a frenzy. Pitt man-child Dejuan Blair exploded with his biggest game of the season, a 27 point and 18 rebound performance in Pitt's 86-60 dismantling of Indiana University of Pennsylvania. The 6'7" center missed just one shot attempt and even had the opposing coach likening him to a much larger man.
"That was DeJuan? I thought that was Shaq," said IUP coach Joe Lombardi, a former Pitt assistant. "He was a man in waiting last year, but he's arrived."
One day all teams will be coached by former Pitt coaches. • Samuels makes his debut in the Lou'. For fans of the Louisville Cardinals this day couldn't come soon enough. Samardo Samuels, the star freshman forward from St. Benedict's prep in Newark, NJ, finally got his first taste of game action in Louisville's first contest of the year. The Cardinals crushed Morehead State 79-41 to open the Billy Minardi Classic, which is apparently some sort of awful tournament. Samuels led all scorers with 18 points while adding five rebounds in 23 minutes. • Monroe might elicit some favorable comparisons. Greg Monroe, the latest in a long line of dominant centers from Georgetown University, dominated in every facet of the game in his team's 81-53 win over Drexel. Monroe finished the game with 20 points, eight rebounds, four assists, three steals and three blocks in 31 minutes.