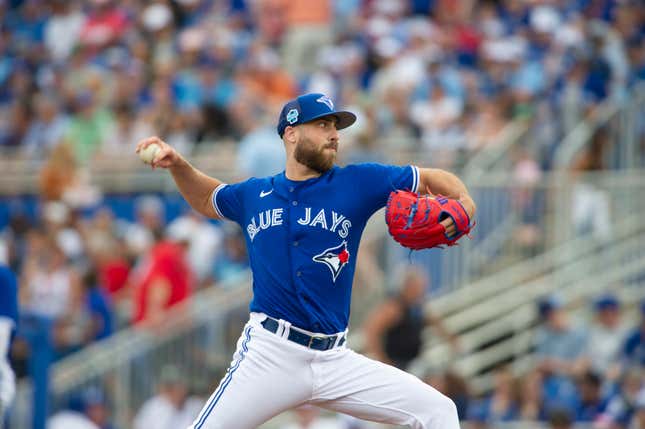 Anthony Bass should have learned to stay off of social media — and perhaps pitch better— as he was DFA'd by the Toronto Blue Jays on Friday afternoon.

The 35-year-old righty held a 4.95 ERA, allowing 19 hits in 20 innings pitched — and a -0.2 WAR — before his demotion. He's also made headlines for his off-the-field views.

The reliever shared his anti-LGBTQIA+ views online, calling for boycotts of Bud Light, which had partnered with transgender influencer Dylan Mulvaney, and Target, who created and sold a line of Pride-themed clothes to kids.

He ended up "apologizing" for it, only to turn around and say he doesn't believe his post was hateful.

"...I stand by my personal beliefs," Bass said, "and everyone is entitled to their personal beliefs, right? Also, I mean no harm towards any groups of people."
---
Update: The Toronto Sun, citing a source, is reporting that the Blue Jays "approached Bass and said that he didn't have to" catch the Pride Night pitch "if he didn't want to."

"It was never their idea to have him — and the team — become a distraction on a night the team had heavily marketed as a celebration," baseball writer and columnist Rob Longley wrote. "Bass somewhat defiantly wanted to go through with the ceremony, feeling it was the right thing to do after agreeing to the suggestion of Pride Toronto executive director Sherwin Modeste."
Additionally, Bass being part of the on-field celebration was "not well-received in the Jays clubhouse," another unnamed source told the Toronto Sun.
Toronto GM Ross Atkins said Bass being DFA'd was "primarily a baseball decision," while also acknowledging the distraction the righty caused.
---
The Toronto fans booed him during his post-apology appearances at home and the CN Tower was lit up in Pride colors when Bass exited the bullpen.

In what could be seen as a way to make amends of sorts, Bass was tapped to participate in Pride Weekend.
Let's also not forget that this is the same guy in April who was roasted on Twitter for complaining about United Airlines making his pregnant wife clean up after their two kids.
In demoting Bass, Toronto reinstated Mitch White from the 60-day IL to take his place on the roster.