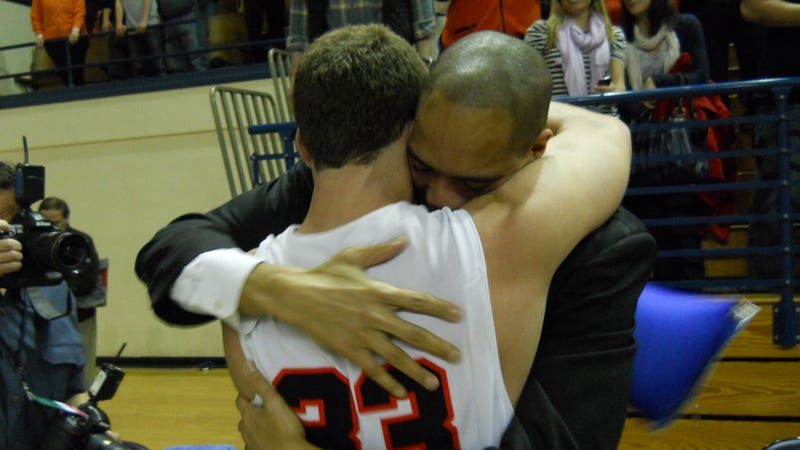 Sydney Johnson, who coached Princeton to victory over Harvard in the game of the century, and then hung tight with Kentucky in the first round of March Madness, took the head coach job at Fairfield University today. You may see the irony there, since it's usually Princeton that poaches faculty at the height of their careers! Peter Singer, anyone?
But now anyone can apply to be the head coach at Princeton, our tipster Dirk notes. Right here.
Princeton University's Department of Athletics is conducting a national search for a full-time head coach of men's basketball. Responsibilities include all aspects of coaching, program planning, game management, team organization, recruiting, fundraising and alumni relations.

Essential Qualifications: The position requires a bachelor's or advanced degree and a successful background in coaching basketball, preferably with several years of playing experience at the collegiate and/or professional level. Demonstrated leadership and communication skills and the ability to manage team dynamics also are required. A demonstrated commitment to values-based coaching is necessary. The coach must be able to work and communicate with students, faculty, staff, administration, and alumni, as well as work within the framework of Princeton University, Ivy League and NCAA policies and procedures. CPR and first aid certifications are required subsequent to date of hire.
That's all quite reasonable, I suppose. According to the Princeton HR office, the minimum salary is $35,600. Prep those résumés and get your negotiating skills ready! Plus, since it's an Ivy League school, you're gonna wanna reference Jeremy Bentham and Michel Foucault as much as you can during the interview. Try to use the word "heteronormative," too. As John Thompson would.
Jobs at Princeton, Posting Details: Men's Basketball Head Coach [Princeton.edu]
Sydney Johnson leaves Princeton to become Fairfield head men's basketball coach [The Star-Ledger]