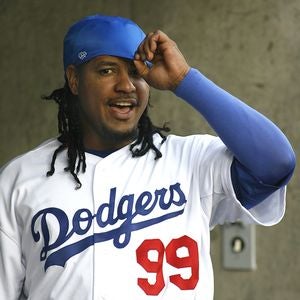 The CBS affiliate in San Francisco is reporting that the Giants have offered Manny Ramirez a four-year deal for undisclosed dinero. Just imagine my delight*.
The Denver Post was the first to report yesterday that the Giants were going hard to the hoop for Manny; which was greeted with both skepticism and derision on many fronts. First, it's going to be very expensive to install a laugh track at AT&T Park with both Aaron Rowland and Manny in the same outfield. Any wins gained by his bat will immediately by refunded by his comical glove.
Next, do the Giants really need more drama? If you're going to go back to that, why not also re-sign Bonds and give them adjoining lockers? Then there's the fact that this offer may merely be one of the many Machiavellian stylings of Scott Boras, who would love to keep pressure on the Dodgers to offer his client a better deal, and may be wearing a monocle and petting a cat as we speak. Also one would think that Brian Sabean would be a little shy about throwing big money at a free agent while the team is still writing auto industry bailout-sized checks to Barry Zito.
And the biggest drawback of all: The war of dominance between Randy Johnson's mullet and Manny's dreads would be too much of a lockerrom distraction.
Then again, Manny would put butts in the seats; the Giants drew 2.8 million fans last season, the first time they'd dipped below 3 million since they moved from Candlestick Park in 2000. And he is a rather dynamic player; remember when he high-fived that guy in the stands in the middle of a play last season? Then there was the time ... no! What am I saying? This is all a terrible idea!
* = Sarcasm.
Giants Offer Slugger Manny Ramirez Four-Year Deal [CBS 5]
Giants "Aggressively Pursue" Ramirez [McCovey Chronicles]