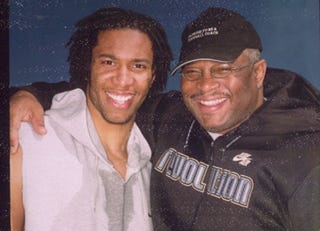 Last week, Rick Reilly's column deified Larry Fitzgerald Sr., who promised objectivity in his Super Bowl coverage even though his son plays for the Arizona Cardinals. It'd be a nice story, if only it were true.
Slate writer Josh Levin dutifully points out that building up Fitzgerald Sr., a veteran sports reporter for the Minnesota Spokesman-Recorder, as anything more than a cheerleader with a pen is a little ridiculous. In Reilly's column, the elder Fitzgerald assures people that he "won't cheer" in the press box and that his familial ties won't influence his coverage of the event. Fitzgerald Sr. has covered 28 Super Bowls in his reporting career and will approach this one the same way and wait his turn on Media Day just like everyone else to ask Larry Jr. softball questions. Levin doesn't attack the elder Fitzgerald's sentiments as much as writers like Reilly, Michael Wilbon, and USA Today's Jarrett Bell, whom he accuses of never reading a word of Larry Sr.'s writing before they wrote their fawning profiles about his journalistic integrity.
Fitzgerald Sr.'s column in the Minnesota Spokesman-Recorder, a weekly African-American newspaper, is less a work of journalism than a proud parent's scrapbook. Judging by the last two issues, the Spokesman-Recorder doesn't run straight game stories, meaning that Fitzgerald Sr.'s columns represent the bulk of the paper's writing about football. As such, the Spokesman-Recorder sports section is essentially a Larry Fitzgerald Jr. tribute page—since 2003, the elder Fitzgerald has written about his son at least 23 times.
Granted, it is a nice storyline to play up during Super Bowl week (which is always in search of treacly subplots) but it is a little preposterous to consider Fitzgerald Sr. blessed with Zen-like objectivity considering, as Levin puts it, he "basically acts as his son's PR rep."
But that's a little harsh. Take Fitzgerald Sr.'s unbiased coverage of the NFC Divisional playoff game with the headline "Cardinals Soar With Fitzgerald Leading The Way". In that piece you'll find Fitzgerald Sr. completely unbiased in reporting about little Larry's breathtaking performance in that game, which he claims was even more remarkable considering the Cardinals other star receiver "Anquan Bolden" [sic] was out with a hamstring industry.
Maybe Carl Boldin should also cover the Super Bowl for the Minnesota Spokesman-Recorder just so he can make sure the surname is spelled correctly.