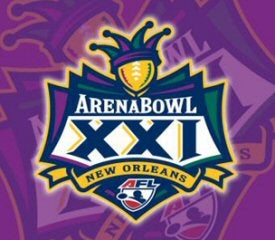 If you're already bored of baseball legends talking about "AA ball" and "Ted Williams using their bats as toothpicks," may I remind you that later this afternoon (3 p.m.) ABC is airing ArenaBowl XXI — The Small-to-Medium Game! ™
On one side of the comically short field sits the San Jose Sabercats; a team who hasn't lost in three and a half months and have won 2 of the last five AFL titles. And on the other side ... the Columbus Destroyers. Um, they were 7-9 in the regular season. I'm thinking a 146-14 final might be in store. This could be awesome!
Anyway, if you're as pumped as I am, It's Still Football has all your ArenaBowl live-blogging needs. Seriously.