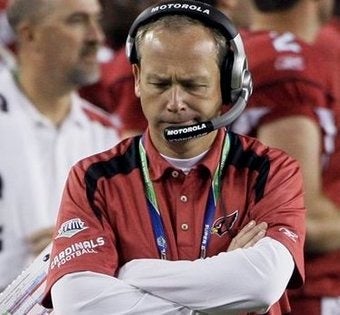 We're adding a little something to this month's Super Bowl coordinators contest. First prize is a new head coaching gig with another team. Second prize is you're fired.
Yes, just one day after offensive genius Todd Haley was plucked from Glendale to run the Kansas City Chiefs, his defensive counterpart Clancy Pendergast was asked to pack his steak knives and go home. But ... but ... that guy got a job!
Of course, Arizona's defense is the reason everyone thought they didn't even deserve to be in the playoffs in the first place, but unless Anquan Boldin and Larry Fitzgerald are moving to Missouri next month, I think Haley may not be the lucky one here. After all, there's always another coaching job somewhere and I'm guessing Clancy won't unemployed for long.
Pendergast won't return to Cardinals [Arizona Republic]