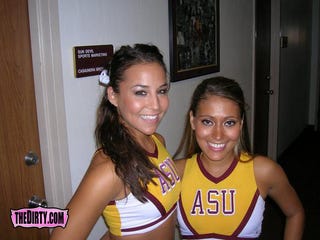 TheDirty.com is amassing an impressive body count with its daily takedowns of mountain-chested co-eds sitting on the toilet or sweaty athletes in various states of inebriation. Add the Arizona State University cheerleading squad to that list, which has apparently been eliminated after panty-clad photos of some of its members appeared on the site:
The school's athletic director, Lisa Love, made the decision Thursday evening.The pictures on the blog feature 6 of the cheerleaders posing in nothing but their bras and panties. Although only six members of the squad are shown in the photographs, the entire 16-member squad will suffer the consequences, MyFOXPhoenix reported.
But who could possibly be against democracy?
UPDATE: ASU denies the photos were causal.
The Evil, Nasty Internet Claims Another: Reports Claim Arizona State to Cut Cheerleading Squad [The Big Lead]

Arizona State Cuts Cheerleading Squad After Racy Photos Surface On Blog [Fox News]

Arizona State Cheerleaders Update [TheDirty.com]