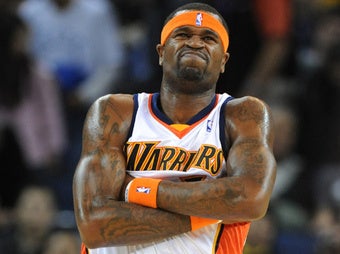 The wife of Bobcats forward Stephen Jackson was held at gunpoint by home invaders, locked in a bathroom, and robbed in the couple's Charlotte home Wednesday. Trauma aside, she's fine. But don't tell that to Rick Bonnell of the Charlotte Observer.


Bonnell's instant reactions to the story:
1. I so feel for his wife, who must have been terrorized by the experience.

2. To the guys who picked Jackson's family to victimize, I ask, "What were you thinking?''
Obviously, they were thinking they could rob an NBA player's home—and they did. But Bonnell is asking this as a hypothetical because as anyone knows, Stephen Jackson is a protective husband who is going to seek revenge. His brother was clubbed to death! That's why he sprang into the stands with Ron Artest six years ago; that's why he shot off a gun while he was with the Warriors. He is "the last person you'd want holding a grudge, after you held his family at gunpoint," Bonnell writes. Stephen Jackson is Charles Bronson in Death Wish III!
All due respect to Rick Bonnell, but when your column could plausibly serve as the voice-over for a Dolph Lundgren direct-to-DVD movie, it's time to start over. Stephen Jackson is not Dolph Lundgren. He's a very wealthy professional athlete who cannot afford to get caught up in the revenge game. He's an athlete who lives in a world where people remember what happened to Sean Taylor three years ago. At least we hope he is.
Note: When Stephen Jackson ends up pulling a Harrison Ford in Patriot Games, this post will be deleted.
Inside the NBA: They picked the wrong man to victimize [Charlotte Observer]