After an brutal spring so far — OK, he didn't really get rocked by a Little League team — rockin' righthander Bronson Arroyo was traded this morning to the Cincinnati Reds for outfielder Wily Mo Pena. We support this trade, for three major reasons.
1. Red Sox Fans Are Always More Entertaining When They Root For Players With Funny Names. From Pokey Reese to Coco Crisp not to Wily Mo, goofy baseball names perpetually sound better when said by drunk dudes wearing their hats backwards while playing Golden Tee.
2. We Are Cardinals Fans. We'd kind of secretly lusted after Wily Mo — you realize we are starting Larry Bigbie in the outfield this year, yes? — but if the Reds were going to trade him, we're glad he's onto the junior circuit.
3. A Bountiful Harvest For Cincinnati Harlots. As has been hinted at here and elsewhere, Mr. Arroyo — being the rare combination of "rocker" and "baseball player" — is apparently most popular among the postgame hotel crowd. So if you happen to be in downtown Cincinnati between the hours of 10 p.m. (when the game ends) and midnight (when everything downtown closes), keep an eye out. Arroyo is ready to rock.
G/O Media may get a commission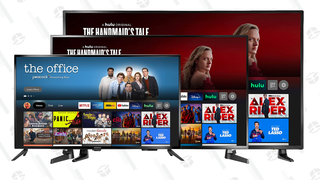 Up to 44% off
Prime Early Access - Insignia Fire TVs
Red Sox Deal Arroyo To Reds [Baseball Musings]
Bronson Arroyo Now Officially A Rock Star [Deadspin]