I can't tell if it is an overly harsh reaction to what was a commanding performance in one of the biggest matches of the season so far, or if it is instead a perfectly justifiable reflex in light of this club's constant yo-yoing between underachieving and ascendency, but the main feeling I was left with after Arsenal's impeccably timed and overwhelmingly convincing victory over Tottenham this weekend was this: Where has this team been all season, and can they keep this up?
Most of the talk coming into this weekend's North London Derby centered on the perceived power shift between these two great rivals. Tottenham have been trending upward for a handful of years now, catching up to and even surpassing their bigger and richer local rivals over the past two seasons. Arsenal meanwhile have been treading water at best, struggling to keep pace with the two Manchester clubs and Chelsea as the Premier League's biggest of the big boys, while also nervously looking over their shoulder as the likes of Tottenham and Liverpool threatened to surpass them in the English soccer hierarchy.
Hence why this derby was so big for the Gunners. Lose it, and cement the perception that Spurs might've once and for all put Arsenal in their rear view mirror. Win it, and regain their status as legitimate top-of-the-table challengers.
The way the match turned out could hardly have been any better from Arsenal's point of view. The Gunners really did beat that ass.
The most revelatory aspect of the match, the part that speaks to Arsenal's recent past and their short-term future, wasn't that Arsenal gave Spurs such an ass-whooping; it was that said ass-whooping was so surprising. Arsenal are loaded with talent. Mesut Özil (who has continued his resurgence of late, demonstrating that he remains one of the most fearsome attacking forces in the game when he, like, actually gives a damn and applies himself), Alexis Sánchez, Aaron Ramsey, Sead Kolašinac, Nacho Monreal (it's true, he's consistently excelled in his new back-three-center-back role), Laurent Koscielny, and Héctor Bellerín are some of the very best players at their positions in the league. Alexandre Lacazette and Granit Xhaka also have the ability to be amongst the five to 10 best EPL strikers and defensive midfielders, respectively, which combined with the aforementioned names gives Arsenal a truly elite starting lineup on paper. Add in quality players like Alex Iwobi, Olivier Giroud, Danny Welbeck, Theo Walcott, Jack Wilshere, and Francis Coquelin, and the depth of Arsenal's bench is superseded by only maybe one or two clubs in the country.
G/O Media may get a commission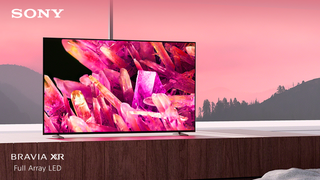 $400 off
Sony 55 Inch 4K Ultra HD TV X90K Series
From top to bottom, Arsenal's squad is more than capable of, at the very least, standing up to everyone else in the league. (Except Man City, who basically aren't fair.) That it's regarded as such a shocker for this group to perform at home the way they did this weekend, and how surprising it is that they currently find themselves just a point outside of the top four, tells you everything you need to know about the lowered expectations Arsène Wenger's club have engendered within the minds of Premier League followers.
This has no right to be the case any longer. After the comprehensively dominant show Arsenal put on against Spurs on Saturday, and the similar one their attacking stars delighted fans with against Everton a few weeks ago, the Gunners have no excuse not to look more like this than the shaky bunch that started the season. Arsenal must keep hold of both Sánchez and Özil for the rest of the year, they must keep those two motivated and hungry (Özil especially; again, he's been on an absolute tear lately both in attack and, believe it or not, with his defensive pressing), and they must keep up the momentum of this derby win. We've seen these kinds of false dawns before with this club, and if Arsenal want to be taken seriously again, they cannot afford to falter now the way they have in the past.
Arsenal have all the pieces necessary to fight their way back into true top-of-the-table relevance, to vindicate their fans who swaggered around London in the aftermath of the match bellowing to anyone who could hear that North London was still and will always be red. All that's left is to go out there and do it. It's certainly feasible that they'll do so, but we'll believe it when we see it.