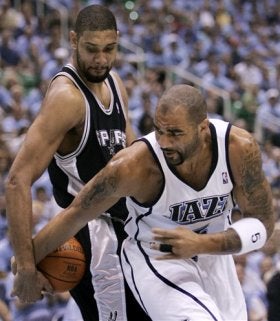 Well, that was emphatic ... and just what this postseason needed. The Utah Jazz, back on their homecourt, busted out the whoopin' sticks on the San Antonio Spurs last night. Carlos Boozer (while not trying to stuff the basketball into Tim Duncan's rectal cavity) and Deron Williams had that pick-and-roll working like two other guys who used to play in Utah whose names I just can't remember. The final: Jazz 109, Spurs 83.
Tim Duncan's foul trouble certainly helped, as did the defensive effort of Mehmet Okur (who actually didn't score). The Spurs shooting cooled considerably in Game 3, as they made just 7 of 21 threes. It all added up to garbage time that featured Matt Bonner, Beno Udrih, and Rafael Araujo, none of whom have had the great honor of being accused of cheating in a David Blaine commercial.
So the series, at the moment, is as close as it can possibly be. But if the Jazz don't back it up with a repeat performance on Monday night, this won't mean a whole lot.
Williams' aggressive play sparks rally [Salt Lake Tribune]