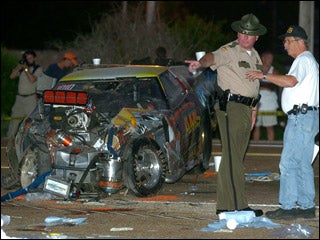 A 15-year-old, a 17-year-old, and others in their early 20s were killed last night during something called an "exhibition burnout" in Selmer, Tennessee. One of the cars spun out of control and into the crowd, killing seven and injuring at least 15 more. From the AP:
Witness Garett Moore said he was about to walk across the highway, thinking the show was over, when he saw the dragster racing toward him. He was about 15 feet from the wreck but was uninjured.

"It ain't really safe to do anything with drag cars on a city street," Moore said.

Selmer Police Chief Neal Burks said "bodies were flying into the air when it happened."

"I saw body parts flying everywhere," said witness Sean Hood.
It was a charity event held by Cars for Kids, which raises $200,000 each year for children's charities. The founder formed the charity in 1990 after his son suffered a severe head injury, and he vowed that if his son was saved, he'd spend the rest of his life raising money for disabled children.
I feel sick. Condolences to all involved.
'Burnout' mishap turns tragic in Tennessee [ESPN]
Seven Spectators Killed at Car Show [FOX 6]