When I walked into Cipriani on 42nd St.—a gorgeous Manhattan event space highlighted by stone archways, Greek columns, and ceilings higher than those of a Renaissance cathedral's—on Wednesday night, I was greeted by a bank of MacBooks, each manned by a well-dressed young person, their faces glowing warmly in the dim light. One of them asked me my name, and after a few key strokes, a small machine next to him whirred to life and printed out a slip of paper with my name and a table number. This wasn't the kind of event where people write their own names on a piece of sticky paper; I took the slip and looked around the room, realizing how much money was in it.

I was there to attend the second annual Sports CLIOs, an awards ceremony that exists to honor the year's best work in sports advertising and marketing, because one of the organizers asked Deadspin if we'd like to send someone to the event. Most of the other people in the room, all exceptionally well-dressed, were there because they (or more likely their company) had paid $750 for a seat at one of the 30 or so 10-person dinner tables arrayed in front of the stage and giant screen that had been erected at the far end of the room.
Guests weren't allowed to sit right away; velvet ropes and a line of white-coated waiters holding trays of some sort of pink, fizzy champagne concoction blocked the way to the dining area. We were instead left to linger in the very large foyer, where waiters with trays full of cheese-based hors d'oeuvres circulated throughout the crowd and nobody had to wait in line for a drink.
After about an hour of mingling and small talk, a disembodied voice boomed over the public address system and instructed everyone to take their seats My table was in the very last row, putting me about 100 yards from the stage and Tiki Barber, the evening's host.
Barber welcomed us while we picked at prosciutto, roasted pear slices, mozzarella, and frisee salad. As awards show hosts go, he was fine. He made all of the required Kardashian/Donald Trump/Game of Thrones jokes—he uncorked one about the bar, compressed air, and Tom Brady deflating footballs that I am still struggling to understand—and kept things moving along without getting in the way of the real stars of the show.
G/O Media may get a commission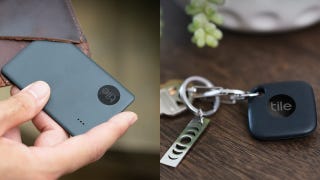 Up to 35% off
Tile Item Trackers
Tiki Barber, hostin'. Photo via Getty.
---
Those stars were The Brands, or rather the stories that the brands spent the last year telling. "Stories" and "storytelling" were the words used to describe the work of award recipients throughout the evening, a practice that struck me as odd considering that the primary purpose of an advertisement is to convince people to purchase a product, whereas the purpose of a story is to, well, just be a story. Then again, nobody really wants to pay $750 to eat steak, drink wine, and watch a bunch of people in suits accept awards for their ability to convince people to buy things they don't need; much better to congratulate people on their storytelling abilities.

As we ate, Grand CLIO awards were given to advertising agencies whose commercials were considered to be the best of the year in various nebulous categories such as "Film," "Digital Social," "Innovative," and "Engagement/Experiential." After each winner was announced, the lights dimmed and the big screen above the stage lit up with a sort of highlight package telling us what the winning story was about while touting its "social reach" and the number of "impressions" it made. Then someone in a suit would walk to the stage, accept his award, and give a brief round of thank-yous.
At one point, Dave Morgan, president of USA Today Sports—twice shouted out as an official partner of the Sports CLIOs—took the stage to present the For The Win Award for the year's most viral ad. For The Win, for the uninitiated, is a USA Today-owned website that masquerades as a journalistic enterprise while being, in reality, little more than a good place for brands to find free advertising. If a brand releases a well-produced and properly pandering sports-related ad, you can bet it will be featured free of charge on For The Win, under a headline like "Under Armour settles whether ballet is a sport in new breathtaking ad" or "Watch this gripping Derrick Rose commercial from Powerade with Tupac Shakur vocals." Whether you find an ostensibly journalistic outlet that reaps web traffic by providing free advertising space to brands giving one of these brands a prize for providing them with so much web traffic to be just deeply embarrassing or a sign of just how fucked the future of journalism is probably depends on how much of your week is spent reading BuzzFeed. Anyway, the winner of the For The Win Award was that fucking Derek Jeter commercial.
Speaking of Gatorade, some VP for the flavored salt water-shilling corporation received the inaugural CLIO Sports Brand Icon Award from NBA deputy commissioner Mark Tatum, who heaped praise upon Gatorade for creating such a ubiquitous brand and attested to the "deep and authentic relationship" that exists between the NBA and Gatorade. Throughout the VP's acceptance speech, he made many references to the stories that Gatorade has been telling throughout the years, as well as the stories the brand still has to tell.
While he spoke, I kept thinking of an acceptance speech that was given earlier in the evening. A woman from the World Food Programme accepted an award for a spot that they had created with Zlatan Ibrahimovic, the purpose of which was to raise awareness of world hunger. During her speech, she claimed, "Sports and advertising are a universal language."
It's a very pretty building. Photo via Getty.
---
I think I know what she was getting at. At their heights, both sports and advertising are supposed to make people feel things—a barrage of Steph Curry three-pointers can make your chest swell, and even the staunchest anti-capitalist has chuckled or felt a twinge of sentiment while watching a commercial at least once in his or her life. The difference between the two has to do with who is speaking the language and why. There is a lot that's shitty and reprehensible about the world of sports, but a LeBron James dunk has nothing to do with those things; it exists for no other reason than that it can and should. A well-written and inspiring bit of dialogue from a Nike commercial, by contrast, has everything to do with all the things that are shitty and reprehensible about Nike, because it was written for the sole purpose of selling more Nike products. The better the advertisement is, in fact—which is to say, the more effectively it serves Nike's interests—the more shitty and reprehensible it is.

To say that sports and advertising are the same language misses the fact that advertising is the language of interlopers; sports got along just fine before the brands came along and started putting logos on the field and athletes into commercials. (You could argue that Gatorade did more for Michael Jordan than Jordan did for Gatorade, but that would just mark you as a tremendous sucker.) Which is perhaps why one thing I didn't see at the second annual Sports CLIOs was any athletes. That fucking Derek Jeter ad won the big award of the night—the Grand CLIO in the "Film" category—but Jeter wasn't there to accept it. And why would he have been? He was only on set for about 30 minutes, remember?
Jeter's absence didn't matter, though; neither did the fact that Ben Jackson, a wrestler born with cerebral palsy who starred in Gatorade's #WinFromWithin campaign, was at one of the tables but never got to touch the stage. The show got along just fine without the contributions of athletes, because they didn't really belong there anyway. They aren't the ones with stories to tell.
The awards show was wrapped up in about an hour. All were invited to stay and enjoy the work of DJ Kiss at the after party, but I decided to sneak out early. As I made for the door, I looked over at the makeshift red carpet that had been erected near the doors. As the evening began, it had run in front of a backdrop sporting various brand marks, bustling with media people and guests of honor. On its own, it just looked strange, a garish splotch framed by the splendid architecture of the building.
Top photo via Getty