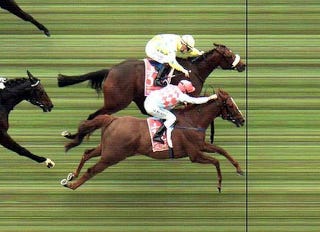 Today is the Melbourne Cup, Australia's richest turf race and an event so big, they can hold it at 3pm on a Tuesday. The winner was Dunaden, but holy shit not by much. The French-trained horse beat out Red Cadeaux by the slimmest of margins, and judges pored over the photo finish for three minutes before deciding.
When's the last time there was a finish closer than this? Actually, just two months ago. Wikipedia helpfully keeps a list of dead heats, wherein we found this, perhaps the most amazing finish of all time.
Here's the full Melbourne Cup, in which two horses somehow run two miles to within a fraction of an inch of each other.