Hello, folks. Welcome back to Bad Beats, the column you visit for betting advice and sad tales of gambling woe. Read past Bad Beats here. Got any stories for us? Email us at tips@deadspin.com. Subject: Bad Beats.
The best sports movies according to Toheeb Jimoh
Oh, God, it's that wretched Monday that comes every baseball year, the day when the games stop, for a bit, and we're left with no choice but to watch Chris Berman holler over some overlong stunt. Yes, the Home Run Derby. We can cope with this baseball paucity in many ways. Drinking, for one, but that can go sour and get pricey. We could watch a movie, but I've checked, there's nothing good On Demand. So, we gamble.
Your contenders, and their odds to win:
Jose Bautista 11/4
Prince Fielder 7/2
Matt Holliday 9/2
David Ortiz 19/4
Adrian Gonzalez 11/2
Matt Kemp 7/1
Robinson Cano 17/2
Rickie Weeks 12/1
OK. We can start by throwing Bautista out. Why? Well, no player from a Canadian team has ever won the Derby. Simply doesn't happen. Toronto's zero for ten entrants, Montreal was zero for four. Keep in mind that Vlad Guerrero won the thing as an Angel in 2007, and that Canadian Justin Morneau won it the following year (while playing for Minnesota, the closest thing to Canada), and that Bautista's favored, and you realize that you should stay away. Canada's cursed.
G/O Media may get a commission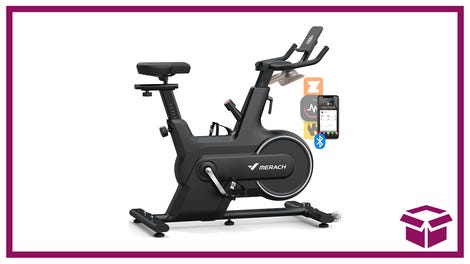 14% off + Coupon
Merach Indoor Cycling Bike
So, Fielder? No. He's won it before, and no one but Ken Griffey, Jr. ever captured multiple Derbys. Plus, he's an impending free agent, and no impending free agent has ever won the Derby, as far as I can tell. No champion has ever switched teams the year he won the Derby or the year after. So, doubly no on Fielder.
Matt Holliday? Come on. He's Matt Holliday. You really wanna plunk down a dime on Matt Holliday, and then see his looping swing dump ten liners into left field? I think not. Holliday almost made the Derby finals in '07, but he didn't get out of the first round last year.
David Ortiz. Oh, David Ortiz. Last year's winner. That doesn't bode well for him: When Morneau won, he didn't appear in the next year's Derby. Same for Fielder after him, and Guerrero before him. Ryan Howard's 2007 marked the last attempted title defense—and he finished second-to-last. And you'd have to go back to 2003 to find the second most-recent attempted title defense, also a whiff. Only Griffey successfully defended his Derby title, and he wasn't 35 then.
Matt Kemp? No thanks. He doesn't slug at Chase Field—only a .492 mark, compared to his career .486. And he has the second-lowest career homer total of the bunch. The Derby does not belong to breakout power hitters.
Robinson Cano? No steroid-free middle infielder—sorry, 2004 Miguel Tejada—has won since Cal Ripken's 1991 triumph. Hanley, Uggla, Utley, Bret Boone: They've all lost. Cano's sweet line-drive swing also might lack the necessary upper-cut. This ain't the short-porched New Yankee Stadium, where Cano's hit 31 in two and a half years. Add in Chase's deep right-center, and the odds are stacked against Bob. Plus, his dad's gonna pitch to him, and that can't end well.
Rickie Weeks—ha-ha. Come on, it's Rickie Weeks.
All of this leaves Adrian Gonzalez, who's mashed in his career at Chase—he has a .604 slugging there, not to mention more homers than he hit at Coors Field, despite fewer plate appearances. He crushed NL pitching without relenting over the past few years, despite toiling in cavernous Petco Park. Sure, he only managed two homers in his 2009 Derby appearance, but he's refocused, having taken last year's Derby off. Fielder went from three homers in '07 to a title in '09, without playing in '08. And we only have to go back five years, to 2006, to find a team that repeated with lefty sluggers—the Phillies had Abreu and Howard, now the Red Sox will have Gonzalez and Ortiz as winners.
Or they won't, because this thing is fluky and stupid and impossible to predict. Maybe you're better off drinking.
Bad Beats: Readers Share Their Tales Of Woe
From Maury:
Nine-team parlay, closing to the Grizzlies plus 6.5 against the clippers. $5 pays $1034. Griz down 4 with 10 seconds left and the griz have possession coming out of a timeout. Griz miss a 3 pointer but grab the rebound with 6 seconds left. Griz player throws the ball away with 5 seconds remaining. Even though the Griz are locked into the 8th seed in the playoff standings, they decide to foul with 5 seconds left. Randy Foye makes the first free-throw. He then misses the second and a Griz players appears to grab the rebound. However, Blake Griffin wrestles the rebound away with 2 ticks left.

He pauses beneath the basket while the Griz players stand by looking as though they thought Blake would now run out the clock. Instead, with one second remaining Blake decides to throw up a layup that hits the front of the rim, but he then tips in the miss as the buzzer sounds. Clippers win by 7. To add insult to injury...I bet the parlay in the morning but the spread moved to Clippers -8 by the start of the game. To add further insult to injury, the play-by-play guy announced that Blake's final tip-in rebound gave him his second triple-double of the season. Thanks, Blake. Hope it was worth it.
Shyam:
Set the scene: I'm 22 or 23 and not far out of college. I had a full on gambling problem...routinely hitting online gambling limits of 3-5k a bet for as random games as you can think of, and selling shares from my stock account to cover losses and gamble even more. I would bet $300 (the max) on "will a run score in the 1st inning" on a 1pm baseball game just to keep work interesting, and tell my coworkers about it so they could share in my joy or sadness.

For some reason, I bet on the Padres against the Dodgers in a September 2006 baseball game. I really don't remember why anymore...something about it must have made it interesting (probably Jake Peavy going against Brad Penny, I'm sure the juice was in favor of Peavy). Both had about the same record, and I bet my $4k on the Padres.

I don't even like baseball. I wouldn't watch any of the baseball games I bet on, but would check in on the gamecast to see how things were going. This game was 9-5 going into the 9th inning, and I'm just about ready to celebrate before going to dinner with my folks. Decided to kill time and check out the bottom of the 9th.

Well, this happened. Back-to-back-to-back-to-back home runs (I don't even know if I got the number of Backs right, but you get the point). 2 home runs in a row from the Dodgers, and then Trevor Hoffman comes in. I'm thinking it's over, he'll get the outs. Instead he gives up 2 more home runs! The Dodgers tie the game. This is $4k that I could see flashing in front of my eyes, a huge amount of money for me and the reason I say I had a problem...no way I should have been betting that much. I'm shaking in my desk chair, and cursing everyone and everything I know. After this the Padres finally close the inning without losing, a minor miracle in itself.

10th inning starts and the Padres eke out a run. But once you get hit with this kind of bad beat, you know it's not meant to be. There's nothing to celebrate in a one run lead after blowing a 4 run lead. Sure enough, in the bottom of the 10th Nomar Garciaparra of all people steps up and blasts a 2 run homer to end it. Hanging my head in shame and anger, and then I have to go eat dinner with my parents and pretend like I didn't just lose $4k on 4 straight home runs.
Stupid Prop Bet of the Week
From Paddy Power—TNT's rebooting Dallas next summer. Who's going to shoot JR?
Sue Ellen 5/4
Christopher Ewing 2/1
Rebecca Sutter 6/1
Ann Ewing 8/1
Cliff Barnes 8/1
Elena Ramos 8/1
John Ross Ewing 10/1
Kristin Shepard 12/1
Ray Krebbs 16/1
Carter McKay 16/1
Lucy Ewing 16/1
Gary Ewing 18/1
Dusty Farlow 18/1
Bobby Ewing 20/1
We're expecting a murderous Jerry Jones cameo. But we haven't consulted the bookies about that.