A few months back we covered torero Jiménez Fortes, who suffered a gruesome and grave wound after being gored in the neck. Fortes returned to the ring this weekend in Vitigudino and once again ended up in the hospital after being, that's right, gored in the neck.
"En ese momento", continua, "Fortes cayó al suelo. Se hizo el quite con el capote, con una larga cambiada, pero el toro no hizo mucho caso y se fue directamente para él», detalló. «Introdujo el pitón por debajo de la mandíbula, entre el suelo y las tablas, y lo levantó a pulso: lo puso de pie".
Let's look at some pictures.
Actually, you know what? Let's stop there.
It is Fortes's eighth goring in two years. We suggest he find a new line of work.
G/O Media may get a commission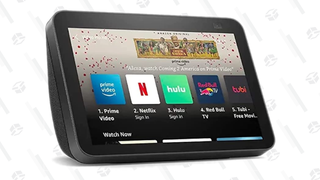 [El Mundo]
To contact the author of this post, write to tim@deadspin.com (PGP key) or find him on Twitter @bubbaprog.