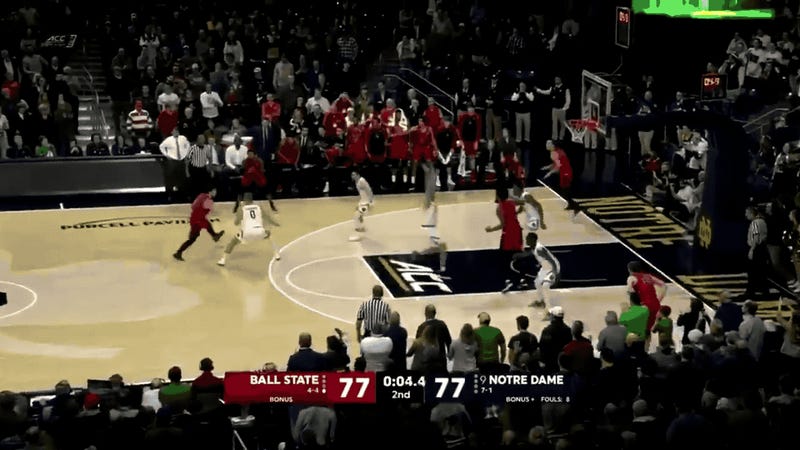 Ball State's Taylor Persons nailed a spectacular three with 1.7 seconds remaining in a tie game to upset number-nine ranked Notre Dame in South Bend tonight, giving his Cardinals their first-ever win in 10 tries against the Fighting Irish. The final score was 80-77, in a game Notre Dame was favored to win by 17.
Here's the most enjoyable video of the shot, with sound that gives you the full depth of Irish shock.
Persons led his team with 24 points, and Ball State had a steady lead through the majority of the game, including a six-point advantage with under two minutes remaining. It looked for a moment, though, like Notre Dame was going to do just enough to survive when Matt Farrell hit a game-tying three with 24 seconds on the clock. The Cardinals, however, came right back down the court without calling a timeout, and despite jumping awkwardly and having Rex Pflueger right in his face, Persons suddenly made himself an all-time hero in Muncie, Indiana.
Ball State, which hasn't made the NCAA Tournament since 2000, improves to 5-4 on this year, while Notre Dame—which also lost to Michigan State last week—drops to 7-2.