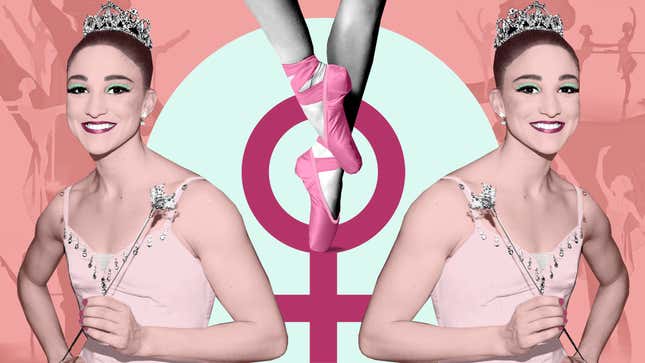 On stage, Ashley Bouder and Sara Mearns were dancing separately, but together.
Bouder and Mearns, best known as principal dancers for the New York City Ballet, were performing Duet, a piece by the contemporary dance choreographer Liz Gerring. It was a new work, which Bouder commissioned for her own enterprise, the Ashley Bouder Project, as part of a three-piece program called At This Dance, Women Take the Lead.

How running an NFL team is like running a restaurant | Chef Emeril Lagasse
The performance, on March 17 and 18 at Symphony Space on the Upper West Side, took place some 30 blocks uptown from Lincoln Center, where Bouder and Mearns share a dressing room. On this stage, the two moved without usual rigid balletic posture and turnout. They were dressed in what passes for class attire: shorts and a long-sleeved lace leotard for Bouder, black tights and a black leotard for Mearns. Their pointe shoes had been exchanged for flat ballet shoes as they moved slowly and deliberately, in the low-to-the-ground movements Gerring created for them.

The key departure from tradition, though, was the fact that they were up there together at all. The conventional ballet pas de deux is a pairing of a woman and a man—the Sugar Plum Fairy with her cavalier, Giselle with her Albrecht. It's uncommon for two women to share the stage; to see Mearns and Bouder moving independently across space felt like something rare. On stage right, Bouder leaped and extended into attitude onto a bent leg, while across the stage Mearns did a port de bras with her legs together. Each danced for a while in her own world, as if the other were not there. Later they met stage left and, among other things, displayed their impressive développés.

"I have a whole new appreciation for just being to stand up on one leg without turnout, stability, or structure of ballet," Bouder told me a few days before the program. "I have to relearn what the placement is."
---
Ballet, synonymous with femininity in the popular imagination, is mostly created by men. In 2015, Bouder noted that the slate of choreographers for the New York City Ballet Fall Gala, a gathering of socialites, celebrities, and top names with the ballet, were all white men. Four white men with their faces on the poster advertising the ballet's biggest showcase of new talent of the year. It made for a bit of a scandal, and the company responded to the criticism by including two women among the next year's choreographers.
But the incident got Bouder thinking. How often had she worked with female choreographers in her long career with the NYCB? By her recounting, the number is seven. When had she worked with female composers in her career? Never. How many artistic directors of established companies are women? Very few, though the Washington Ballet is run by Julie Kent, one of modern history's most revered ballerinas.
Bouder said she was glad to see the company heed the call for women on the gala bill. The real issue, though was something larger. "That question and that feeling stayed with me," she said. "And I thought, 'I have my own company. I am in a position to do something, so I should.'"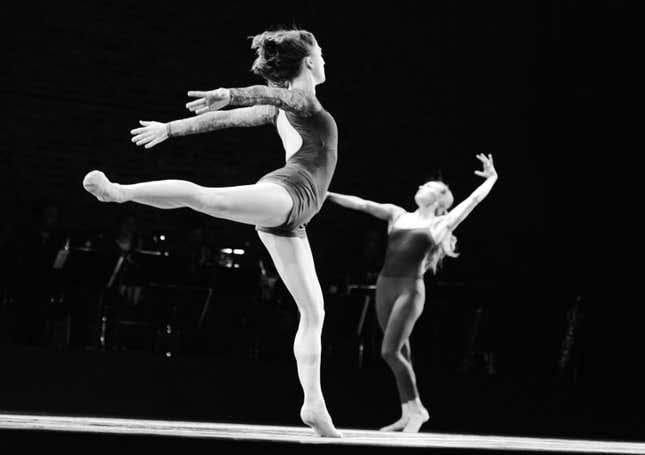 At This Dance, Women Take The Lead was her own response to the gender imbalance—a production featuring women as choreographers and composers, and herself as artistic director. She had formed the Ashley Bouder Project in 2014. She was then in her ninth year as a principal dancer with the New York City Ballet, the highest ranking position in the company. She became a principal at age 22, five years out from the School of American Ballet, the NYCB's feeder school.

At 33, Bouder has had just about as enviable of a career as one could have. She's danced leading roles in Swan Lake, Firebird, Sleeping Beauty, Stars and Stripes, and a long list more. She's performed for Michelle Obama's White House Dance Event and at the International Ballet Festival of Havana, bowing onstage with Alicia Alonso, the mother of Cuban ballet as it exists today. She had a baby, Violet Storm, less than a year ago, and got married on New Year's Eve.
Onstage, Bouder is a delight. Her footwork is fast, her leaps are high, and she brings a notable spunk, all of which have made her a perennial favorite with NYCB audiences. Offstage, she is just as expressive—active and popular on social media, offering fans (especially young, aspiring ballerinas) a look into her life as one of the best dancers in the world. She has no problem displaying her life, promoting her work and sharing photos of her young daughter and supporting Hillary Clinton.
She is also unusually outspoken on issues of gender inequality and sexism, which still remains a dissenting position—and a risk—within the traditional world of ballet.

When Bouder returned to the company after having her baby, she said she was "very firm in the fact that I'm still a ballerina." She said people told her, "Yeah, but you're a mom now."

"You'd never say, 'Yeah, but you're a dad now. Maybe I'm going to take it easy on you,'" Bouder said. "Just because I'm a mom doesn't mean I'm not a ballerina. I'm paying my salary to go toward day care."
Four other dancers with the NYCB are moms, three principal dancers and one corps member. Bouder told me Violet Storm comes with her to performances, and that other dancers will babysit her backstage while she dances. On other days, Violet Storm is at rehearsal with her mom, crawling around on the marley floor while mom practices her pirouettes.
Bouder is no longer a 22-year-old dancer fresh out of rural Pennsylvania. Through the Ashley Bouder Project, she is broadening her knowledge and experience of dance. In its first go-around, the group put on three performances, one in Cleveland, one in Canada, and one in New York. That first run, Bouder said, put her in a newly vulnerable position "I was so nervous that last time, sitting in the audience, that I kinda didn't do it for a while," she said. "I didn't like that nervousness, and it's taken me awhile to get over it."
---
In At This Dance, Women Take The Lead, Bouder was not only returning to the challenge of producing a show, but taking up the task of choreography. Where previously, the Ashley Bouder Project had only danced works by others, the opening performance in the show, In Pursuit Of, was a lengthy ballet in four movements choreographed by Bouder herself—only her third piece ever, after one piece she'd done as a student at the company school and another that the NYCB artistic director, Peter Martins, had asked her to do a few years ago.
Her co-producer for the show was Ron Wasserman, the artistic director of the New York Jazzharmonic. The band played live, onstage behind the dancers. In Pursuit Of was scored to an original work by Miho Hazama, the Jazzharmonic's associate director. Hazama's score was dynamic, varying between tempos as to give each movement a distinct personality.
Three couples from the NYCB corps de ballet danced the piece. Lead dancers Ashley Hod and Devin Alberda were splendid, with Hod's flexibility defining her performance.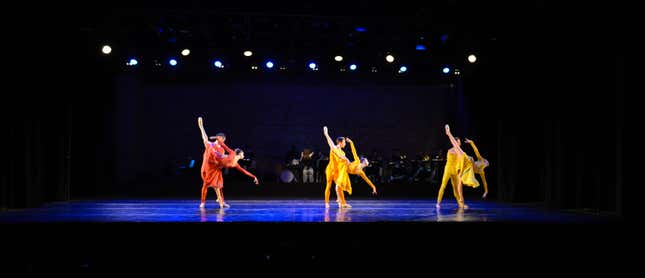 The movements in The Pursuit Of referenced styles of international dance, Bouder told me. The first, Warrior, featured jumps and footwork referencing Maassai dances out of Kenya and Tanzania. The costumes, designed by six-time Tony award winning designer William Ivey Long, progressed from a couple in yellow, to a couple in orange, to Hod and Alberda in bright, saturated red. In Warrior it was as if the couples were a trick, moving past each other and together, daring you to keep track of which partner corresponded with which.
The second movement, Harvest, referenced Polish Mazurka dance, which features untraditional partner holds. It slowed it down, focusing more on the intricacies of movement, and offered more attention on Indiana Woodward and Laine Habony, who danced as counterparts. Habony, in orange, was quick and lyrical; Woodward lagged slightly behind, with her extension not quite as quick, not quite as high.
The third movement, Ceremony, referenced meditative Sufi whirling. It featured Hod and Alberda in a lengthy pas de deux, the high point of the piece. It was the most focused of the movements, most reminiscent of Bouder's background in traditional ballet.
Freedom closed out In Pursuit Of, bringing back the four other dancers for a bright, high-energy piece. Bouder told me the final movement was based on contemporary ballet.
After a short break, Bouder and Mearns took the stage for Duet, the show's second piece.
Gerring's choreography was a departure from the technique and form the ballet dancers exercise day in and day out. Commissioning Duet was Bouder's biggest liberty as artistic director to show fans of her traditional style something new.

After an intermission, the show closed with the Tony-award-winning choreographer Susan Stroman's 1999 piece Blossom Got Kissed, featuring music by Duke Ellington. It was the evening's strongest piece, featuring six couples on stage, and Bouder taking the lead with her fellow NYCB principal dancer Andrew Veyette. In her role, Bouder was brilliant, playing to her strengths as a fiery on-stage presence with the technical skill to match.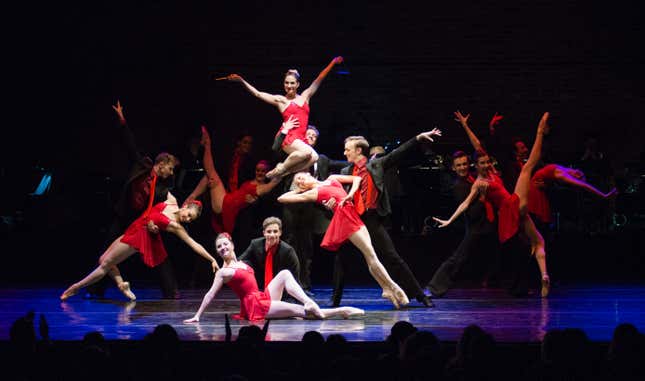 The inclusion of Blossom Got Kissed added context and contrast to Bouder's choreography. Stroman's piece was polished, utilized space and dancers in a way that often made me wonder how they avoided collision while Bouder, in the role of the awkward outsider (albeit in a pancake tutu and crown) weaved in and out of them.

Bouder's position as amateur choreographer of In Pursuit Of was evident, but it captured her desire to stretch beyond convention, and to test her own limits. To me, Bouder described the undertaking as "making our own language here. We're learning a new one, and discovering that we can, and that it makes sense to us."
"I hope that the audience comes in knowing that these are all female choreographers," Bouder said, "and treating it like they'd do any piece of work."
If there was a revelation to be had from one of the world's top ballerinas attempting to level the uneven field, it was that the resulting program felt like any other ballet and dance program. Making room for women in composing and choreography means getting more new music and more new dances.
"I understand why the inequality is there," Bouder told me. "And I don't place blame on men or something like that but that would be unfair to the people who are successful. I just think that there needs to be a focus on helping equality happen faster.
"It's like, we hired a woman yay! And they don't rehire her, but they rehire a man and don't think twice about it. I just hope to bring a little more attention to it through myself as a choreographer and featuring female composers to say, 'maybe we should seek them out, because they are awesome too.'"