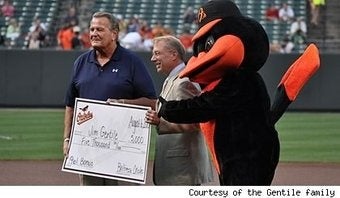 Well lookie what happens when the Baltimore Orioles manage to win a few games in a row: They walk big ceremonial checks out at Camden Yards and make a scene about rewritten baseball history.
Jim Gentile became the first 76-year old grandpa to win the AL season RBI title last week. In 1961, one of baseball's most cherished years, Roger Maris and Mickey Mantle chased down Babe Ruth's single-season home run record. ... Gentile was in that race too for most of the season, fading in the end and finishing with 46 homers. He also had 141 RBI, but Maris' 61st homer was his 142nd RBI. ...

[L]ast week, baseball acknowledged that Maris had been credited for one RBI mistakenly. A run had scored on an error, not when he batted it in. So baseball took away that RBI, leaving him with 141. And that made Gentile the RBI king — tied with Maris — for the year.
In related news, orange-and-black spit found on a gravestone at Holy Cross Cemetery in Fargo, ND.
Jim Gentile Walks Off a Champ, as Do Baltimore Orioles [mlb.fanhouse.com]
Mantle, Maris Didn't Have As Good A '61 As We Thought [Petchesky]