Today is Barry Bonds's birthday! The greatest player in baseball history is turning 50. Here is a list of scarcely believable facts about his career, accompanied by videos of him performing impressive feats of speed and strength:
—Bonds drew 688 intentional walks in his career. There are 49 Hall of Fame position players who drew fewer walks of any kind in their entire careers.
The best sports movies according to Toheeb Jimoh
—If Bonds had retired after the 1998 season, he would have done so with 99.6 career rWAR. This would rank him No. 32 all-time.
—If Bonds had retired after his age-27 season rather than signing with the San Francisco Giants, he would have done so with 50.1 career rWAR, more than 42 Hall of Fame position players.
—Bonds had a career line of .393/.967/1.054 on 3-0 counts.
—Bonds was once intentionally walked with the bases loaded.
—Bonds was intentionally walked with the bases empty 41 times.
—In the 2002 postseason, Bonds hit .356/.581/.978 with eight home runs in 17 games.
G/O Media may get a commission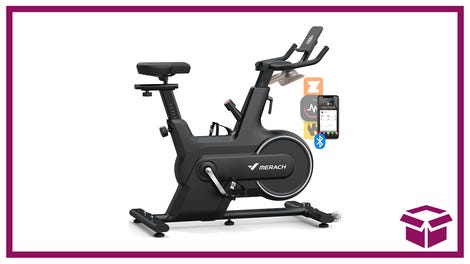 14% off + Coupon
Merach Indoor Cycling Bike
—Between 2002 and 2004, Bonds hit 136 home runs and struck out 146 times.
—If you turned every home run Bonds ever hit into an out, his career on base percentage would be .384, the same as Alex Rodriguez's.
—Between 1990 and 2004, Bonds was never lower than third in OPS, and he was third only three times.
—Bonds stole 340 bases through age 30; Derek Jeter has stolen 355 in his career.
—Bonds reached base just 330 fewer times than all-time leader Pete Rose, in 3,284 fewer plate appearances.
—Bonds opened the 2004 season with a stretch in which he reached base 45 times in 64 plate appearances, with nine home runs and four strikeouts.
—Bonds's slugging percentage in 2001 was .863. If that were his OPS, it would have ranked 27th in the National League, just behind teammate and defending MVP Jeff Kent's .877 mark.
—From 2002 to 2007, the only seasons for which data is available, Bonds made contact with 90.5 percent of strikes he swung at, varying from a seasonal low of 89.2 percent to a high of 93.7 percent.
—Bonds made 85 fewer outs than Ken Griffey Jr. did in 1,302 more plate appearances.
—Bonds had four sacrifice hits in his career. (Ted Williams had five; Hank Aaron had 21.)
—Through age 26, Bonds had 10.8 defensive WAR, more than any other outfielder in major league history other than Andruw Jones through that age.
—Bonds hit .333/.488/.576 against Pedro Martínez in 43 plate appearances; only Luis Gonzalez (of all people) hit him better.
—Bonds hit Randy Johnson for a 1.003 OPS in 62 plate appearances; no other left-handed hitter with 50 PAs did better than .888, and left-handers overall hit .199/.278/.294.
—After the San Francisco Giants moved to what is now known as AT&T Park, Bonds slugged .753 there in 1996 plate appearances, which is what Mark McGwire did in 1998, the year he hit 70 home runs.
—From 2001 to 2004, Bonds's on base percentage was .559; that would have been the 11th-highest slugging average in the National League during this period.
—Bonds's career rWAR of 162.4 is higher than those of Pete Rose and Nolan Ryan combined.
—Bonds took the extra base—advancing more than one base on a single, or more than two on a double—43 percent of the time, more often than Ichiro Suzuki.
—In his career, after going to a 3-0 count Bonds hit 30 home runs and struck out 25 times.
—In his 16 recorded bunt attempts, Bonds laid down two for sacrifices and picked up eight hits on the others, for a .571 batting average.
—Bonds hit 227 career home runs just off left-handers—more than 91 Hall of Fame position players hit in total.
—If Bonds were to return to the major leagues tomorrow, he would have to make 1,412 straight outs to drop his on base percentage below .400.

Photo via Getty